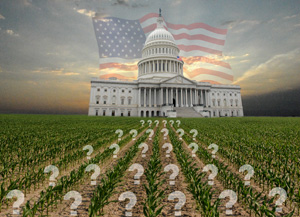 The farm bill's commodity programs could have the answers you need to succeed in 2015 and beyond. But are you asking the right questions?
"Understanding the questions one should ask is always important, as it is hard to get to the best answer if the question is wrong," says farm policy expert Carl Zulauf. "But the questions are even more important when uncertainty is sizable, such as with the farm bill commodity program choice decision."
Zulauf, a professor in the agricultural department at The Ohio State University, spent time earlier this year figuring out what questions farmers really should be asking before making game-changing decisions (such as selecting ARC or PLC) on their operation.
The fruits of his labor include an summary of upcoming crop program decisions at go.osu.edu/crop_decisions. Zulaf also made an hour-long video highlighting things farmers need to consider when making farm bill crop program decisions.
"You've got to think about the programs, what they offer, and what matches your farm," Zulauf says. "Every farm is unique, so you have to really think about how the decisions will impact your individual farm needs."
Several enrollment periods are underway and will close early next year, including:
Program Yield Update — enrollment period: Sept. 29, 2014, to Feb. 27, 2015.
Program (Base) Acre Allocation — enrollment period: Sept. 29, 2014, to Feb. 27, 2015.
Program Choice — enrollment period: Nov. 17, 2014, to Mar. 31, 2015.
For more information, visit the OSU 2014 Crop Program Decision website.