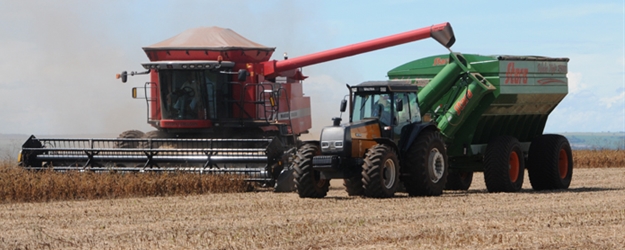 The soybean harvest in Argentina, the world's third-biggest producer, is being delayed by excess rain, threatening the quality of the crop, Oil World said.
About 6.2 million hectares (15.3 million acres) of soybeans and 3.4 million hectares of corn still hadn't been harvested as of May 22, an "unprecedented" level that compares with 2.6 million hectares of soybeans and 1.4 million hectares of corn that were uncollected at the same time last year, the Hamburg- based researcher said in an e-mailed report. Argentina's crop may still be about 55 million metric tons, 15 percent bigger than last season, according to the report.
"There is now an increasing risk of quality deterioration and quantitative losses," Oil World said. "Spreading of diseases is being reported in several areas. Acreage abandonment may approach or exceed 1 million hectares in soybeans alone."
Soybean futures on the Chicago Board of Trade, the global benchmark, have climbed 16 percent this year amid increasing demand from China and tightening stockpiles in the U.S., the biggest producer, followed by Brazil.
Recent weakening of the Argentine peso and speculation that the government may devalue the currency means farmers have been "more reserved sellers," and they may hold their crops as a hedge against inflation, Oil World said. Argentina devalued the peso 19 percent in January.
China, the world's biggest soybean importer, boosted oilseed imports to 7.17 million tons in April, up 61 percent from a year earlier, Oil World said. That brought the total since the 2013-14 marketing year began in October to a record 42.9 million tons, up from 32.1 million at the same time the previous season, according to the report. The April total included 6.5 million tons of soybeans and 544,000 tons of rapeseed and canola, mostly from Canada and Australia.
Soybean Imports
China's imports of soybean oil may total as much as 280,000 tons in the April-June quarter, compared with 235,000 tons a year earlier, with most supplies coming from Argentina and Brazil, Oil World said. China's imports of palm oil were below last year's level in April at 494,000 tons, and purchases of rapeseed oil and sunflower seed oil also declined last month from the year-earlier level, according to the report.
In the European Union, consumption of 17 major oils and fats was estimated at a four-year high of 30.9 million tons in the 2013-14 season, Oil World said. The increase "was exclusively on account of the energy sector," according to the report. EU biodiesel production rose to a record 10.2 million tons in 2013. About 5.6 million tons of rapeseed, 2.5 million tons of palm oil and 1.2 million tons of used oils were used to make the biofuel last year, according to the report.