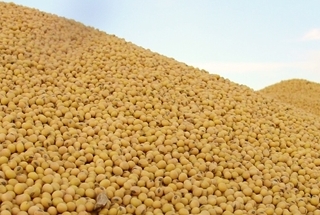 Soybean planting in Argentina may decline from last year as farmers contend with shrinking profit margins, Oil World said.
Soybean planting may total 19.6 million hectares (48.4 million acres) in the 2014-15 season, less than the 19.8 million hectares sown in the prior year, the Hamburg-based researcher said in an e-mailed report. The total crops area may decline to 31.5 million hectares, compared with 31.81 million the prior season, dropping for a second straight year. Argentina is the world's third-largest soybean exporter and ranks fourth for corn shipments, according to the U.S. Department of Agriculture.
"There is currently a growing possibility that soybean plantings will not increase in 2014-15," Oil World said. "Profit margins have been squeezed, particularly in northern Argentina, and it remains to be seen what percentage of the farmers will reduce combined plantings of oilseeds and grains."
Soybean futures on the Chicago Board of Trade, the global benchmark, have tumbled this year along with prices of corn and wheat amid record world harvests in all three crops. A rout in Argentina's peso and concerns about the country's economy also meant farmers have hoarded soybeans left over from the last harvest, which are priced in dollars.
Argentina's corn planting may total 4.2 million hectares in 2014-15, down from 4.8 million in the prior season, Oil World said. The wheat area will be 4.25 million hectares, up from 3.65 million a year earlier. Sunflower planting will increase to 1.54 million hectares from 1.42 million the previous season.
Cattle Prices
Rising prices for cattle mean farmers may expand pasture area for grazing livestock, diverting some land from soybeans, Oil World said. Beef prices are at a record in Argentina and almost double the previous year's level, and low production probably will maintain high prices in 2015, according to the report.
In Brazil, the world's biggest soybean exporter, hot, dry weather is delaying planting in top producing state Mato Grosso, as well as other states in the central part of the country, Oil World said. Some fields may need to be re-sown because plants were damaged or killed by the drought, it said.
"If the current forecasts of ongoing drought materialize for central Brazil, soybean production prospects will deteriorate with plantings," Oil World said.