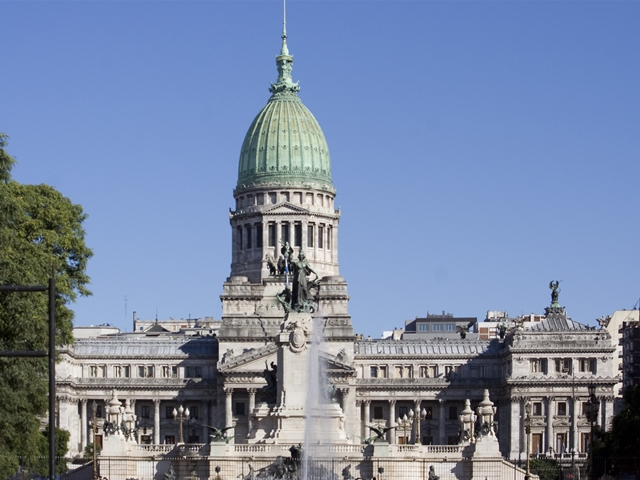 Argentina's peso headed for its biggest weekly drop since August and foreign-currency reserves declined as the central bank moved to facilitate imports while agricultural exports slowed.
The peso fell 0.1 percent to 8.5913 per U.S. dollar at 2:30 p.m. in New York, extending its decline since Jan. 2 to 0.4 percent, the most since Aug. 22. Reserves have dropped by $205 million to $31.2 billion since the end of 2014 following eight consecutive weeks of gains.
Pressure on the currency to weaken is mounting now that most of Argentina's soybean harvest has been sold, causing exports to wane. The central bank has been selling dollars to facilitate imports, causing currency reserves to erode. It's a shift from the end of last year, when central bank President Alejandro Vanoli increased reserves and curbed the slide of the peso with one-time moves including a currency swap with China and the sale of high-speed mobile phone airwaves.
"We had a very stable end of the year because of a series of financial maneuvers from the government and because they had frozen imports; it was all makeup," Jose Alfredo Nogueira, director of Buenos Aires-based currency dealer ABC Mercado de Cambios, said by phone. "But the country can't run without imports forever, and we won't see big inflows from exporters until the new harvest in March and April."
The central bank's press office declined to comment. Argentina controls the official currency rate by buying or selling dollars in the spot market almost daily.
The blue-chip swap, a parallel exchange rate implied by differences in peso and dollar securities, climbed 0.1 percent to 11.98 per dollar. In the illegal black market, the peso weakened 0.4 percent to 13.8 per dollar.
By the end of last year the government had a backlog of about $4 billion to $6 billion of imports it authorized but hadn't paid to avoid losing reserves, according to ABC Mercado de Cambios. Businesses are required to get authorization from the federal tax agency to import.