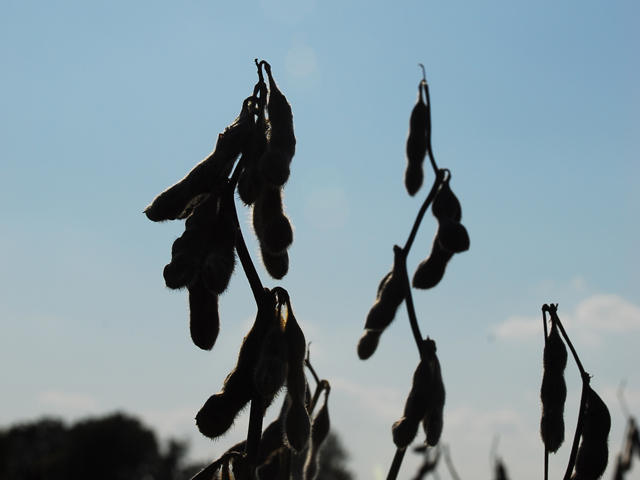 Argentina's soybean crop output forecast could be lowered as the worst rain in half a century may trim yields and impede harvesting, three crop analysts said.
Crop estimates for the Pampas, Argentina's main soybean region, should be trimmed after an excessive amount of rain in Santa Fe and Cordoba provinces in the last month, Rosario Securities Exchange Cristian Russo said today in a phone interview. In the past 32 days, the provinces received the same amount of rain that fell in half a year in 2014.
Argentina's soybean output is forecasted to reach a record 58 million metric tons by Rosario Exchange and Argentina's Agricultural Ministry. The two provinces account for an estimated 30 million tons of the country's total soybean crop. Argentina is the world's largest exporter of soybean oil and third largest of soybeans.
"I have never seen this in my life; forecasting has become impossible and we won't provide a firm forecast until next week," Russo said. "We will still have a record crop, maybe 57 million, but it isn't going to be the big party everybody expected a month ago before the rain started as the floods are damaging areas and the crop will be hit with fungus related diseases."
Cordoba province issued an alert for Asian rust for the first time since 2007 on Tuesday after excessive rain increased risks for the soybean crop, according to Cesar Alonso, a crop analyst at the Cordoba Grains Exchange. There haven't been any fungus disease cases yet detected in Cordoba, he said.
Impeding Access
"Union district in Cordoba has received 392 millimeters (15.4 inches) of rain year to date," Alonso said in a phone interview from Cordoba. "That's a 65 percent increase compared with the 7-year average."
According to Alonso, losses can occur after yield cuts because of fungus or delays in harvesting as the rain is taking place at the beginning of harvesting and floods will impede harvesting machine access to the fields. Cordoba was expected to produce 15 million tons of soybeans.
Cordoba Exchange will release on Friday a report detailing the amount of rainfall received in each of Argentina's crop- producing area, he said. Crop output forecasts won't be released until next week because farmers can't provide data to the exchange as they are unable to access their farms while routes are submerged.
Argentina's most productive province, Buenos Aires, has received a normal amount of rain so far this year. The Buenos Aires Grains Exchange won't cut its soybean forecast in its weekly report to be released Thursday at 3 p.m., said Esteban Copati, Buenos Aires Grains Exchange soybean analyst.
"It's too soon to say how much will be lost," he said. "We won't know for sure until farmers can access the fields to check it out."
The Buenos Aires Grains Exchange forecasted 57 million tons of soybeans for the 2014-15 season.