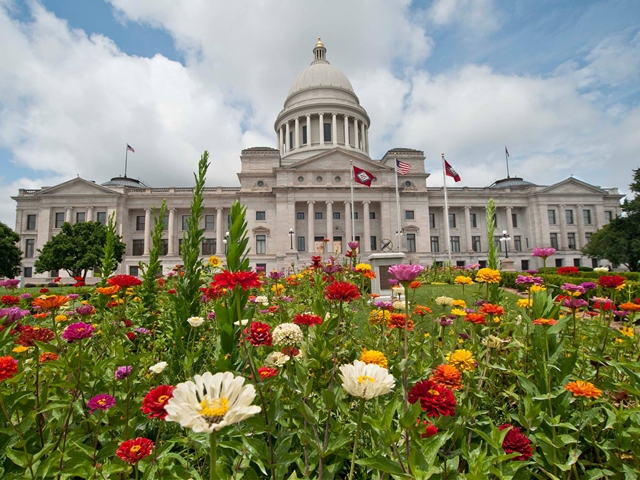 Gov.-elect Asa Hutchinson asked Arkansas' largest farming advocacy group Wednesday to support his proposal to cut taxes for the middle class by $100 million, saying the state needs to move beyond exemptions narrowly targeted to agriculture and other industries.
Speaking at the Arkansas Farm Bureau's annual convention in Hot Springs, the incoming Republican governor asked the group to help him push for the income tax reduction when lawmakers convene next year. Hutchinson told the group he supports existing exemptions farmers receive on items such as on feed and fertilizer but said broader changes to the state's tax code are needed.
"They're important to you; therefore, they're important to me," Hutchinson told the group. "But we are now reaching a point in Arkansas that we need to look beyond more and more exemptions to our tax structure, and we need to look at an across-the-board reduction of our state income tax."
Hutchinson, who will take office Jan. 13, won election last month after campaigning on a vow to cut individual income taxes by $100 million, saying Arkansas' rate makes it a less competitive business environment. He's succeeding Democratic Gov. Mike Beebe, who is leaving office due to term limits. Beebe has warned lawmakers that the state already can't afford some of the tax cuts approved last year, and has suggested the Legislature delay $29.4 million in tax reductions.
Hutchinson later told reporters he believed his tax cut can be enacted without jeopardizing any of the exemptions farmers currently enjoy.
"The design is not to do away with those exemptions," Hutchinson said.
Rep. Joe Jett, D-Success, said he's working on legislation to give farmers an exemption on parts and repairs for their machinery. Jett said the exemption, which would mirror a tax break lawmakers gave manufacturers, would cost the state $16 million a year.
Jett said his proposal and Hutchinson's tax cut idea will ultimately depend on how the state will make up for the loss in revenue.
"Before I'm going to sign off on one, we're going to have to have the money in place," Jett said.
The bureau kicked off its three-day convention on Wednesday, and its board was expected to vote later this week on its priorities for the legislative session that begins Jan. 12. Hutchinson has said he'll present his budget proposal after the session begins.
Hutchinson's comments were similar to remarks Beebe made to the group after winning the 2006 election, when he vowed to protect farmers' exemptions as he sought their support for gradually reducing the state's grocery tax.