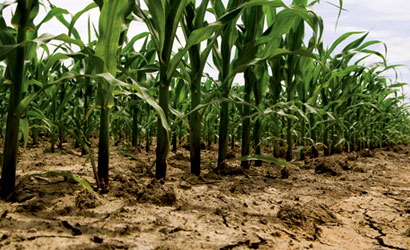 The past few growing seasons have challenged crop producers with just about every kind of weather problem. Yet U.S. yields have been amazingly strong. Many credit biotechnology with creating healthier, hardier plants.
Through its crop insurance program, USDA has demonstrated its belief that biotech seeds have less yield risk. Its Biotechnology Endorse-ment program reduces premiums for growers if at least 75% of acres in the unit are planted to qualifying corn hybrids. Introduced in four states in 2008 for corn hybrids from one company, the program was available in 12 states in 2010 for most traits, regardless of brand, resulting in a premium savings of more than $50 million.
The crop insurance loss ratio is one measure of crop production risk, and Iowa State University's Center for Agricultural and Rural Development (CARD) found that ratio has been falling since biotech crops were introduced. From 1989 to 1999, the ratio was 1.12. From 2000 to 2008, it averaged 0.88 and has not exceeded 1.0 since 2003.
The economists adjusted for the fact that there are fewer and less severe droughts. "There have been enough droughts in certain regions of Illinois and Indiana to allow good measurements," says CARD economist Bruce Babcock.
They also concluded that protection against corn borers and rootworms is not the sole factor in better yields because soybean yield losses to drought have also declined.
Babcock concludes: "For corn, a return of a 1988 drought would reduce yields by 31% in 2008, far below the 45% losses from the same drought in 1988. This is a reduction in drought risk of 31%. For soybeans, estimated losses have been reduced from 28% of drought-free expected yields to 23%—a five percentage point improvement or a reduction in drought risk of about 18%."
Nature America Inc. offers analysis of 49 peer-reviewed reports of farmer surveys that compare yields and other economic indicators of those growing genetically modified (GM) varieties versus traditional varieties. The analysis reveals that of 168 results, 124 were positive, 31 showed no difference and 13 were negative for biotech. Furthermore, the yield improvements were greater in developing countries than in developed countries.
"Although today's biotech seeds were not developed with drought tolerance as a goal, it appears that is just one of several unanticipated benefits," Babcock says. "It could be that these varieties allow earlier planting and are overall healthier or have better root systems, making them better able to deal with weather stress."
A CARD study of drought tolerance based on counties in Illinois, Indiana and Iowa found that corn yield loss under moderate drought was 20% since 2000, about half of what occurred during 1980 to 1989. "Soybean bushels per acre didn't drop, but because of the better yield potential, the percentage did," Babcock says. (See the charts below.)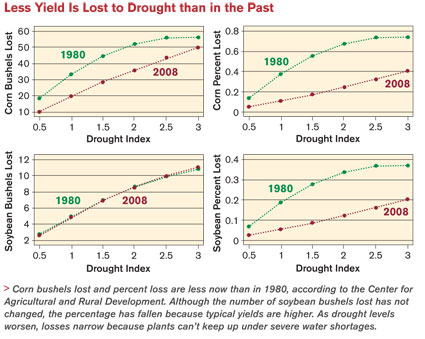 Drought in the Crosshairs. It is estimated that drought cost farmers $14 billion worldwide in 2009, and 85% of the U.S. corn crop is affected by water stress at some time during the growing season each year. Just four days of severe drought stress during the peak of summer can cut yields in half, according to James Borel, executive vice president of DuPont.
A report from Tetra Tech for the Natural Resources Defense Council says that more than a third of all counties in the lower 48 states will face a higher risk of water shortages by midcentury as a result of global warming. More than 400 counties will be at extremely high risk.
So it is little wonder that drought tolerance is a major thrust in seed research. Several major players expect to roll out new corn hybrids that could dwarf the current unintended-consequence benefits. "Drought-tolerance technologies are part of the next great wave of ag innovation that will improve agronomic characteristics of plants so they more efficiently use available resources," Borel says.
Seed companies are seeking to improve yields through better root systems, increased ability to pollinate during drought stress and less abortion of kernels in the ear tip.
Not all the work on drought resistance involves biotech, however. Marker-assisted selection allows scientists to identify and choose drought-tolerant genes. Because it uses native traits, not GM, this strategy doesn't require regulatory approval. New hybrids derived this way are reported to improve yields 5% to 10% in the best existing hybrids in limited-water areas.
Biotech varieties that combine native tolerance with genes from other species have been under test by Pioneer Hi-Bred for 10 years and boost yields 10 bu. to 16 bu. per acre. They require regulatory approval, and the company's goal is to commercially launch between 2014 and 2016, reports Pioneer's Jerry Harrington.
Gaining Ground Globally. While the U.S. is the undisputed leader in adoption of biotech seeds, biotech crops are planted on 330 million acres in 25 countries. More than half of all soybeans, a third of corn, 12% of cotton and 5% of canola is GM. Even the European Union has approved the importation of specific GM crops, though they are still not allowed to be grown there.
China is the first major grain producer to endorse the use of GM technology of a staple grain for human consumption. It approved Bt rice that contains proteins derived from bacteria, pending completion of production trials. This could increase yields 8%, but the big benefit is a potential 80% reduction in pesticide use.
"GM technology is essential to ensure grain security," says Huang Dafang, a member of the Biosafety Committee at China's Ministry of Agriculture. China has a target of boosting grain production 50 million tons in the next 10 years.
Australia, frequently ravaged by drought, is testing drought-tolerant GM wheat, which has shown a 20% yield advantage in field tests.
Also gaining traction are traits that provide benefits to end users. One example is "golden rice," rich in Vitamin A, which may help combat blindness in developing countries where rice is central to the diet.
Such end-user attributes are in development for U.S. consumption as well. Low-linolenic soybeans are one example. Schillinger Genetics is focusing on grain composition, such as higher protein and better digestive qualities. "We have removed two allergens from soybean-based pet and fish food, for example," says the company's Corey Nikkel. "We expect to launch these varieties in 2011, and we believe they could account for 1% of the soybean market in the Midwest and East Coast."
Three-Pronged Approach. Biotech isn't the only weapon in the war for higher yields, however. "The combination of marker-assisted breeding, biotechnology traits and continued advances in agronomic practices has the potential to double corn and soybean yields in the U.S. in the next two decades," says Michael Edgerton of Monsanto Company. In fact, agronomic improvements, such as improved variety selection, seed treatment, precision tillage and fertilizer application, better planting patterns, use of fungicides and better weed control, may add 10 bu. per acre to soybean yields.

These developments already are redesigning American agriculture, with corn and soybeans grown farther north and west and in some cases replacing wheat. "It makes sense for the U.S. to make this shift," notes Bob Utterback, Farm Journal economist. "Wheat is able to be grown in many more countries around the world."
---
Top Producer, September 2010