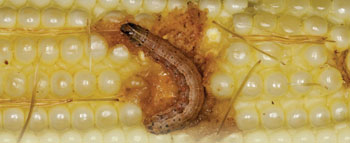 By Amanda Powell

A year-round resident of Florida and Puerto Rico, the Cry1F-resistant pest has been spotted in North Carolina
Just three years ago, fall armyworm in Puerto Rico was first documented to be resistant to Bt field corn expressing the Cry1F protein. By late summer 2012, resistance to Bt corn expressing the same protein was confirmed in southern Florida. In August 2013, the first fall armyworm resistance to Cry1F was verified in North Carolina. 

"In Florida, we haven't had corn with the Cry1F gene long, so producers were surprised to find fall armyworms completing development and surviving," says Gregg Nuessly, professor of entomology and interim director of the Everglades Research and Education Center at the University of Florida.

Unfortunately, fall armyworm resistance to the Cry1F toxin appears to be spreading. Nuessly explains that within the continental U.S., fall armyworms overwinter in south Florida and migrate north during the growing season. 

"But if a population is resistant and starts moving back up the East Coast, some of them will be carrying the gene for resistance. By the end of the summer, resistant fall armyworm could be found up the eastern seaboard where they grow corn," Nuessly says.

Dominic Reisig, North Carolina State University Extension entomologist, documented and confirmed the Cry1F resistance. He points out that fall armyworm is not a major pest in North Carolina, although producers do see it later in the season on all crops. 

Common sense approach. When it comes to Cry1F seed products, farmers should let common sense prevail and keep the following in mind:
Cry1F still provides control of major corn pests.
Fall armyworm resistance has been confirmed in several southern states, but resistance is not 100%. 
The seeds that express the Cry1F gene are still better than non-Bt crops.
Scout all crops.
If any pest meets thresholds, spray according to integrated pest- management recommendations.
If resistance is suspected, farmers should contact their Extension agent or state entomologist to test the protein and take a sampling of the worms. 

Refuges matter. Reisig recommends farmers follow integrated pest-management practices, such as planting refuges, to prevent loss of this tool.

"When growers don't follow regulations and refuges aren't planted, it puts a lot more pressure on these pest control traits and the selection for resistance," Nuessly says. 

The same strain of fall armyworm attacks corn, soybeans and cotton, thus producers planting any seed expressing Cry1F protein could be vulnerable. 

"Anything that has Cry1F protein is susceptible. But the protein is borderline bulletproof so I don't recommend avoiding it; just proceed with caution and choose the best fit for the field and yield goals," Reisig adds.
---