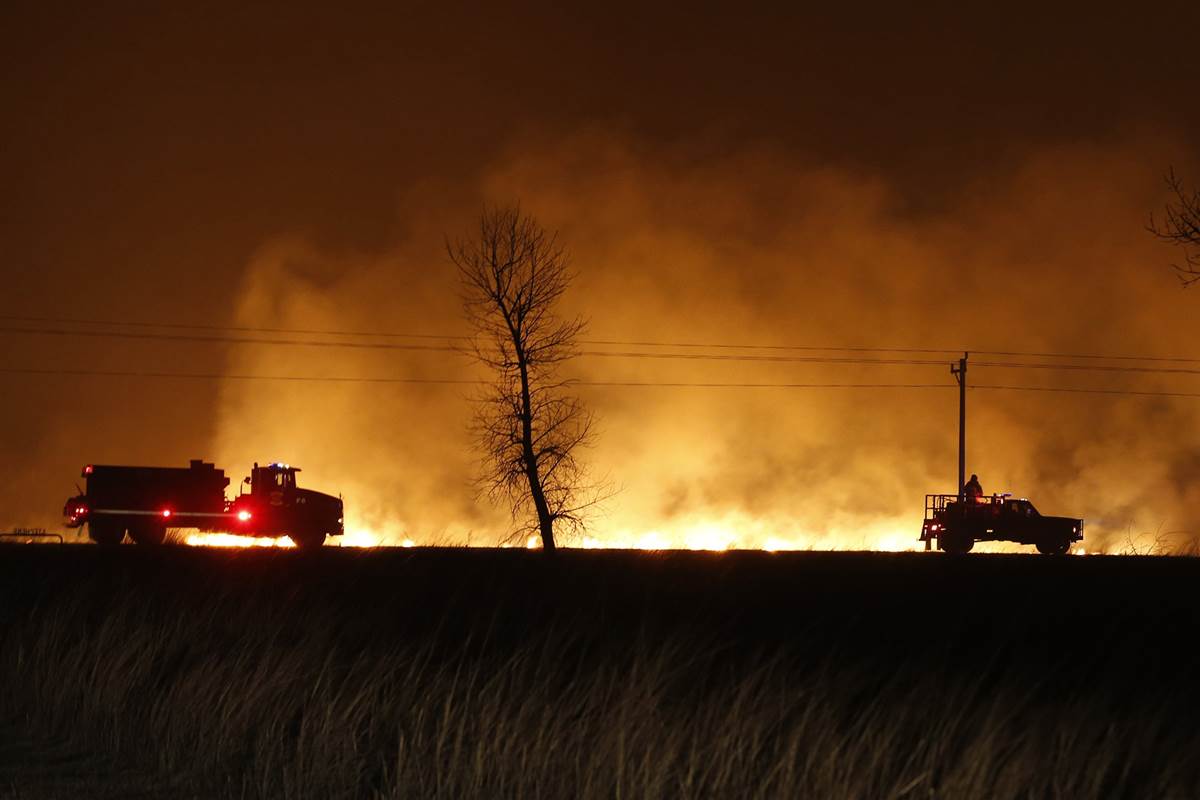 Wildfires in the High Plains continue to blaze, and hundreds of farmers and ranchers in the area have been affected. Fortunately, multiple grassroots aid efforts are underway. Here's how you can help.
Texas
Fires in the Texas Panhandle not only took the lives of several young ranchers, but are also impacting the livelihoods of many in the region. A number of donations have been setup to aid people both monetarily and with supplies in Texas.
Three supply drop-offs have been setup in Texas to bring items like feed, hay or fencing equipment. It is recommended that you contact the supply points before delivering donations:
Gray County Livestock Supply Point
301 Bull Barn Dr
Pampa, TX
Contact: Mike Jeffcoat
Office: 806-669-8033
Lipscomb County Livestock Supply Point
202 West Main St
Lipscomb, TX
Contact: J.R. Spragg
Office: 806-862-4601
Hemphill County Livestock Supply Point
100 Hackberry Trail
Canadian, TX 79011
Contact: Andy Holloway
Office: 806-823-9114
Texas Department of Agriculture (TDA) has a STAR (State of Texas Agriculture Relief) Fund available for producers to receive monetary donations following a disaster. Donations can be made online or checks can be sent to:
Texas Department of Agriculture
1700 North Congress Avenue
Austin, Texas 78701
Also, TDA has a hay hotline produces can donate or receive hay at by contacting 877-429-1998 or clicking here.
Veterinary products have been donated by Spitzer Animal Health and Synbiot Ag Wash to help producers take care of injured cattle.
The Working Ranch Cowboys Association, headquartered in Amarillo is accepting donations through their Working Ranch Cowboys Foundation. All donations are tax deductible.
MCK Dog Kennels in Colorado City, Texas is donating proceeds from a Facebook auction for a two, 4X4 hole dog kennel with barrels.
A cattle drive is being planned in the Texas Panhandle to help with fundraising efforts. The Happy State Bank has an account open to aid families impacted by the fire under: Texas Panhandle Disaster Relief.
Ranchers impacted by the fire can call their Texas A&MAgriLife extension offices to report dead or injured cattle. Office numbers for affected counties are:
Gray County (Pampa) 806-669-8033
Hemphill County (Canadian) 806-323-9114
Lipscomb County (Lipscomb) 806-862-4601
Ochiltree County (Perryton) 806-435-4501
Roberts County (Miami) 806-868-3191
Wheeler County (Wheeler) 806-826-5243
Texas and Southwestern Cattle Raisers (TSCRA) Special Rangers are currently assessing damage and assisting TSCRA members in the affected area. Producers in need of assistance can contact TSCRA at 817-332-7064 or fill out an online form.
 Kansas
For those reaching out a helping hand to Kansas ranchers the Kansas Livestock Association has initiated a relief effort for the victims of wildfires across the state. More than 20 Kansas counties were affected by the wildfires.
The most impacted areas lost fences, forage resources, harvested feed and an undetermined number of cattle, as well as homes and outbuildings.
The KLA is organizing hay and fencing material donations for delivery. To donate, call the KLA at 785-273-5115. Cash donations can also be made through the Kansas Livestock Foundation, KLA's charitable sector, by visiting www.kla.org/donationform.aspx. Donations to the foundation will be used to assist ranchers affected by the wildfires and are tax deductible.
Two ranches have made commitments to donate to the relief fund in their upcoming production sales. Woodbury Farms will sell a registered Angus heifer during their annual bull and female sale at Overbrook Livestock Commission Company on March 15. The heifer will sell as lot 55. For those who cannot attend the sale, but would like to place a bid, call Stephen Russell at 785-458-2650. To view the sale catalog, visit www.woodburyfarmskansas.com. There will be an opportunity to add additional dollars after the sale.
Wright Quarter Horses of El Dorado, Kansas is donating one 2017 breeding to AQHA stallion Bluestem Vaquero. The auction started March 8 and will continue through March 12. To bid or for more information, go to the Wright Quarter Horse Facebook page.
Kansas State University's Sigma Alpha chapter has started a fundraiser to further support those impacted by the fires. The sorority members are selling "Pray for the Plains" t-shirts and all proceeds will be donated to the KLA to help ranchers affected by the fires. 
The Giles Ranch in Clark County has a GoFundMe page to help with the rebuild of a home and recovery of a 30,000 acre ranch damaged in the Starbuck Fire.
Colorado
The Colorado Farm Bureau Foundation has activated its Disaster Relief Fund to assist the Logan and Phillips counties' fires. Donations can be made online at www.coloradofarmbureau.com/disasterfund or mailed to:
Colorado Farm Bureau Foundation
Attn: Disaster Fund
9177 E. Mineral Circle
Centennial, CO 80112
Make checks payable to Colorado Farm Bureau Foundation and note "Disaster Fund-CO Wildfire" in the memo line.
The Colorado Cattlemen's Association and the Colorado Livestock Association say there is an immediate need for hay, feed, fencing supplies, individuals to provide trucking, etc. People looking to donate can bring donations to CHS Grainland in Haxtun, Colorado, 120 Smith St., or Justin Price's farm, 11222 Sedgwick County Road 7, Sedgwick, Colorado.
For more information about drop-off locations, contact Rick Unrein at 970-520-3565. For more information on how to help, contact Kent Kokes at 970-580-8109, John Michal at 970-522-2330, Justin Price at 970-580-6315 or Dan Firme at 970-520-0949.
Kanode Photography is auctioning a 20"x30" acrylic print on a selection of 8 photos, ending on March 12 at 3 p.m. Mountain Time. All proceeds will go to the Haxtun Fire Relief Fund. To participate, visit the Facebook page.
Financial donations can be made to the Haxtun community by contacting the Haxtun Community Credit Union, Attention Haxtun Chamber of Commerce. Checks and money orders should be noted as fire relief. Those looking to donate can also visit www.help.com. Donations may be made via Amazon and sent to:
Haxtun Community Fire Relief
Attn: Hofmeister Insurance
211 S. Colorado Avenue
Haxtun, CO 80731
Oklahoma
Several fires in Northwest Oklahoma have spread into multiple counties and into Kansas this week causing massive losses to ranchers in the region. A number of donation programs have been started to help impacted cattlemen and women in Oklahoma.
 Oklahoma Cattlemen's Foundation (OCF), a charitable arm of the Oklahoma Cattlemen's Association, has established a relief fund specifically for victims of the Starbuck Fire, Selman Fire and 283 Fire.
"When unfortunate situations happen, it is humbling to see how generous folks can be to help those who are in need and we are happy to provide a place for those funds to be held," says Jeff Jaronek, Coordinator of the OFC.  "We will coordinate with the Extension offices in each county to organize relief efforts in the area and to identify ranchers that are in need."
Donations can be made via the mail with checks made payable to "Oklahoma Cattlemen's Foundation" and writing "Fire Relief" in the memo line. Send checks to:
Oklahoma Cattlemen's Foundation
P.O. Box 82395
Oklahoma City, OK 73148
Online donation are available at the Oklahoma Cattlemen's Association website.
"I know that many of my friends, neighbors and fellow cattlemen could use some help in recovering from this devastating wildfire," says Tom Fanning of May, Okla. who is currently serving as the Northwest District Vice President of the Oklahoma Cattlemen's Association (OCA). "In addition to the relief fund, hay donations would also be tremendously helpful."
Hay donations are being accepted at several locations across Oklahoma. It is recommended you call the following numbers if you would like to donate hay or trucking services:
Harper County Extension Office at 580-735-2252
Buffalo Feeders at 580-727-5530
Western Equipment at 580-254-0080