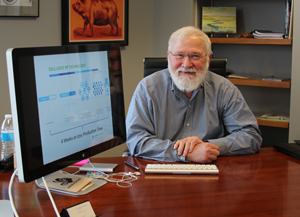 Since porcine epidemic diarrhea virus first entered the U.S. herd in 2013, roughly 8 million pigs have been lost in 30 states. Now, a new vaccine could change that.
It's a virus that's left many pork producers not only heartbroken, but hungry for answers to how and why it's done so much damage in only one year. Porcine Epidemic Diarrhea Virus (PEDv) first entered the U.S. herd in April of 2013. Since then, some estimates point to 8 million pigs that have been lost in 30 states.
"Pigs take it hard, and people take it hard," says Erin Ehinger, a pork producer in Holland, Mich., who knows the impact of PEDv first-hand.
Watch the full AgDay report:
"We had some sows that started to have some diarrhea," she says. "We see a little bit of that here and there, but it continued to get worse and worse."
That was back in February. She says they immediately sent in diagnostics. Within a couple days, reality set in: PEDv had entered their herd.
"By that time, the farrowing had broke and we had sick babies everywhere," says Ehinger. "It was awful."
She says when PEDv broke, it broke hard and fast, impacting all six of their swine farms all together.
"That first farm broke, then we broke almost every other farm right after that, primarily over the weekend," she explains. "So, we've had all of our sows have been exposed to PED and it's been a long battle."
A battle one Iowa scientist is fighting, too. Hank Harris is president and CEO of Harrisvaccines, the company that's created a vaccine to fight the virus. The way he develops his vaccines, however, is what's so unique.
"We don't need to grow the virus or even have the sample virus to make a vaccine," says Harris.
Harris is using new molecular biology and genomic techniques to create a PED vaccine. After discovering the original U.S. virus is 99% related to the one in China, he turned to his computer to complete his work.
"So, when we made the PED vaccine, we just took the gene sequence that we needed off the internet that the Chinese had published with their PED virus," he says.
Harris knows PED is a hard virus to grow, so eliminating that step not only made his work more successful, but much quicker. After several attempts, Harris found what he believes is the right combination, called iPED+, and he hopes the U.S. Department of Agriculture agrees by granting him a conditional license within the next month.

The vaccine is currently available through a veterinary prescription in the U.S. and through an emergency permit application to the Canadian Food Inspection Agency (CFIA) in Canada. So far, even under such constraints, Harrisvaccine has sold 1.5 million doses.

While waiting for broader approval of an effective vaccine, producers are resorting to feedback to protect their herd, where they take the virus from suckling pigs that are dying and feed it back to the sows. Some producers say in the short-term, that's working.

"Now in the long run, we're only three months away, so we're still a little nervous about what this is going to be like come this next fall, if that program will continue to hold that immunity," says Ehinger.
Harris, however, says a feedback program isn't sustainable over time with PEDv.
"In a lot of herds, they usually lose about 100% of their pigs for a while, maybe three to four weeks," says Harris. "After they feedback, the mortality rate starts to decrease. Then, about 9 or 10 weeks after the outbreak, the mortality rate starts going back up again."
That's why he thinks his vaccine could be a real game changer in combatting PEDv. But his goal is much larger than just helping reduce deaths in an already infected herd.
"If it totally would protect a naive herd," he says. "We're going to be happy if it decreases mortality rate, but if it would give protection to a naive herd, that would be a homerun."
Without a concrete answer to PEDv, Ehinger is worried about the virus reentering her herd. And while the financial burden has been big, it's the emotional toll that's so unexpected.
"I've never experienced anything like this, and it's really scary to think about the future if we can't get this figured out, because it's so demoralizing for people working with pigs," she says.
 
Hear more about this issue on AgDay and AgriTalk and Market Rally, as they report from World Pork Expo.