Far too often beef producers relate to the Beef Quality Assurance (BQA) program as if it only matters to beef producers. In reality, this program is about consumers and consumer confidence in our beef products.

As we enter into a new era of prices and opportunity, we have also inherited a different generation of consumers. For far too long producers have delivered calves to a sale barn or video sale and, when the gate closed on the trailer, believed their responsibility ended. My perspective is very different and I want to challenge each of you to have a greater depth of care and understanding of your product's endpoint.

It's not hard. Ultimately, we raise beef for two reasons: to provide protein to consumers and to utilize grass and forages that can be converted to protein. In this, we have an inherent responsibility to provide a safe product that consumers can have confidence in the production practices.

If we break down our production system by segments, BQA processes can vary, but each contributes to consumer confidence in a consistent and safe beef-eating experience. 

For instance in the cow-calf sector, at the Bell Ranch in New Mexico, Kris Wilson and the crew there have implemented several basic steps that ensure correct practices. For example, each automatic syringe is color-coded to correspond with the type of vaccine or medication that is to be applied to an animal. This may seem like a very simple action, but on a more than 3,000-head, tradition-based ranch, accuracy matters. In the past, any syringe that was handy was used to provide medicines or vaccines. 

Next, they implemented a tracking and record-keeping system that allows for withdrawal times to be correctly followed. Again, a simple solution to keep our beef product appropriate for consumption.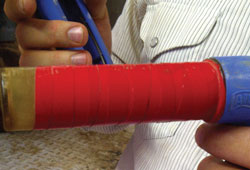 Color-coding each syringe ensures that the proper vaccine and medications are administered to cattle. 

In feedyards, BQA programs have encouraged changes in how doctoring crews handle cattle, medications and vaccines in the past 10 years. Along the same lines, judicious management of antibiotics has helped prevent antibiotic resistance, which concerns many consumers. 

Your business insurance. When it comes to maintaining and building consumer confidence, size does not matter! No matter if you own five, 500 or 5,000 head, each of us has a responsibility to think through every step of our production processes. Ask yourself: "If I had a group of consumers watching me as I go through the day, am I (or is your team of employees) choosing to implement procedures that follow the BQA program?"

Remember BQA isn't just an acronym—its our future in the beef industry.