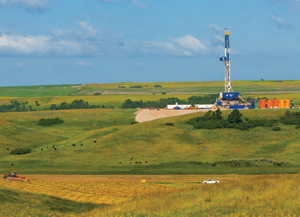 Imagine how the homesteaders felt when roads and rail started crisscrossing virgin prairie. Electricity brought another wave of adjustments. Today, it's new drilling technology that's taking the oil and natural gas industries to untapped frontiers. Agriculture and oil have long coexisted in Texas, but in North Dakota and portions of the Northeast, the Rocky Mountains and the Southern Plains, rigs are on the rise. While farmers have always made their living off the land, they must now decide if they're willing to share and, if so, accept the good with the bad. The stories and faces of those who live and farm in the shadow of the drilling rigs make tangible the country's quest to reach energy independence.

 
Deep below the vast, unassuming prairies of North Dakota swells promise: less dependence on foreign oil, job opportunities galore and a welcome financial lift to rural communities.

The crude reality of the current gold rush–style boom means an onslaught of new people pouring into the only state in the country that had more residents in 1930 than it does today. More people necessitates more houses and bigger schools. Hospitals are full and grocery store shelves are empty. The constant motion is taxing country roads. The very land that's giving birth to the energy boom is also being put at risk.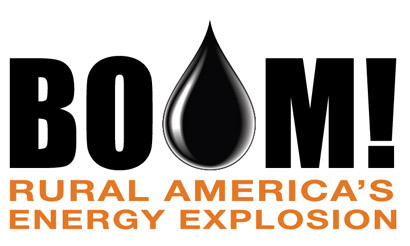 As a geologist and farmer, Kathleen Neset has a front-row seat to the toil on the North Dakota oil fields and the commotion that ripples beyond. "Exploration of oil has its good and bad," she admits, "but the good outweighs the problems. There is a need for these fuels. It is a resource that ensures our national security—homegrown energy being developed by Americans."

The oil and natural gas boom stems from a new drilling technique that allows companies to tap unconventional crude resources from shale plays as far as two miles under U.S. soil. Hydraulic fracturing (fracking) works by injecting a pressurized mixture of water, sand and chemicals into a horizontally drilled well. The mixture cracks the shale and fills the cracks with sandy grit, allowing oil and natural gas to flow up the well.

In the first quarter of 2012, crude oil production in the U.S. surpassed 6 million barrels per day for the first time in 14 years, reports the U.S. Energy Information Administration. The strong growth is primarily due to higher output in the 200,000-square-mile Bakken Formation in North Dakota and the Eagle Ford Shale in Texas. Other hot spots for oil production include the Niobrara Shale in Colorado, Nebraska and Wyoming, and the Utica Shale in Ohio, says Steven Grape of EIA.

Since 2008, fracking, along with traditional drilling, has unlocked 3,400 trillion cubic feet of natural gas in North America, according to a recent study by IHS, a business and economic research firm in Colorado. Putting that in perspective, that output is enough to meet the current needs of U.S. consumers for 100 years.

Natural gas drilling is hot in the Barnett Shale in central Texas, the Haynesville-Bossier Shale on the Texas-Louisiana line, the Marcellus Shale that covers three states in the Northeast and the Woodford Shale in Oklahoma, Grape says.

For farmers, the primary lure of leasing their land for oil or natural gas exploration is financial gain. On the outskirts of the Eagle Ford Shale in Leming, Texas, Bill Slomchinski has been farming amid the hustle and bustle of the oil boom. In spite of the increase in truck traffic that makes it difficult to move equipment among his peanut, cotton and grain fields, he's ready to sign a mineral lease for his property.

"You can't stop progress, so you just have to adjust," he says. "I'd welcome the cash flow to make improvements around the farm for equipment, fencing and facilities."

Twenty miles from Slomchinski, rancher Randy Gates signed a mineral lease a few years ago. With drought conditions weighing heavy, the extra cash flow has been especially helpful to purchase hay and feed for his cattle.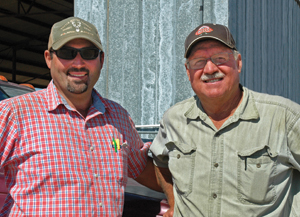 Oil activity in the Eagle Ford Shale in Texas is red hot. Brett and Bill Slomchinski are eager to sign a lease to improve the cash flow of their farm.
Dollar signs. Lease contracts can range from $55 per acre for a three-year lease to $10,000 per acre for a 10-year lease. "Just how much a farmer reaps from an oil or natural gas lease depends on timing and location," says attorney Ronald Coyer of S.R. Law LLC, in Slippery Rock, Pa.

"There's a big range [in price] because this boom-type industry that's been created with shale-level gas is almost like the real estate market, where they say, 'location, location, location,'" Coyer says. "I always say, 'location and timing' because everything has a window and a location in this gas process."

Financial gains also vary based on ownership. As a property owner, you might not own both the surface rights and the mineral rights.

Those who own the mineral rights will negotiate, say, a three-year lease with an oil or natural gas company. From there, the company has that specified time to drill for oil or natural gas before the lease expires and the mineral rights can be bid out to another company. After a well is established and the oil or natural gas is being produced, the mineral rights owner receives royalties based on production, which typically run between 18% and 22% per barrel.

The owner of the surface rights is entitled to compensation for damages to the land. On average, one oil well pad spans four to six acres.
Repercussions of progress. When the oil company sprayed for weeds on a well pad on land owned by Mike Schollmeyer of Dunn Center, N.D. (the surface rights, not the mineral rights), he ran into a problem. A sterility agent was added to the spray mix—and when the rains came, the spray washed off the well pad and into Schollmeyer's field, killing his crop.

In Bryan Beck's neck of the woods in the Marcellus Shale in northwest Pennsylvania, the energy boom has come and gone over the years. In the midst of a rebirth, he isn't willing to take the chance of his land being torn up, which is exactly what happened to 27 acres near him.

On the flip side, there are times, depending on the details of an agreement, that farmers can use an oil or gas company to better their land. Companies will agree to make or help fund improvements to the property as part of the lease agreement.

"The companies have been pretty conducive to helping out," Coyer notes. He just finished a contract in which a company agreed to help a farmer build drainage ditches.

"The companies that are here now are fairly respectable," Coyer says. "They realize this is rural America, where if they upset one farmer, every farmer around is going to know."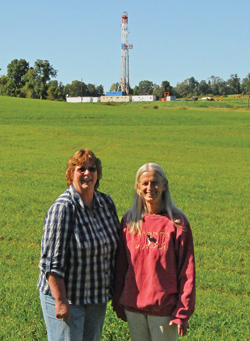 Six years ago, Pennsylvania dairy farmers Carol French and Carolyn Knapp signed leases for natural gas fracking. Now they wish they never had.
Until fracking comes to your community, it is hard to understand the impact it has on your lifestyle, says Pennsylvania dairy farmer Carolyn Knapp. "Just getting to work and getting out on the roads are difficult undertakings. You can expect traffic—lots of traffic. When they're fracking, even though I don't have drill pads on my farm, 300 to 400 trucks go by my house every day."

The intense traffic drove Jed Rider, a lifelong farmer and rancher near Williston, N.D., to move farther off the highway. "It was impossible to operate and especially scary driving a tractor or hauling cattle on the road," he says. "Even a trip to town was nuts." As a result, Rider and his wife shop via the Internet to avoid going to town.

There have even been reports of dust kicked up from oil field traffic stunting crops and damaging pastures. Schollmeyer has five wells among his crop fields and has documented 20% to 50% yield reductions near gravel roads. To put the traffic in perspective, it takes 2,000 to 2,400 tanker trucks to service each well with water for fracking until the well begins producing.

High-paying jobs are attracting workers to boomtowns from near and far. In 2011, the average wage in the oil and natural gas extraction industry in North Dakota was $90,000, making it impossible for grain farmer Scott Lazerenko of Killdeer, N.D., to hire help. Thanks to a broker, he now employs two African workers.

Each drilling rig results in 120 direct and indirect jobs. In North Dakota alone, there are approximately 214 drilling rigs—which totals more than 25,000 jobs from activity in one state.

The influx of people and trucks is a temporary drawback of the energy explosion. It's the persisting effects that have Knapp and neighboring farmer Carol French boldly speaking out against fracking.

"There are people who are losing their water; its quality is diminishing," Knapp says. "That's the biggest thing for me; I can't live without water."

French chimes in, urging farmers to think about what their land means to them. "A lot of our farms are multi-generational farms. Is that money going to be able to erase what your farm meant to you?" she asks.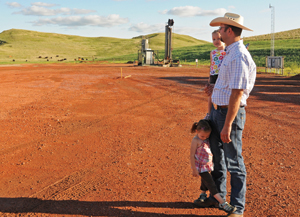 With the future of his family and his country in mind, North Dakota farmer Wes Devorak is embracing the oil industry.
Both Knapp and French signed leases for natural gas fracking on their land, which is located in the Marcellus Shale, six years ago. "I've been there; I get it. The money is real," French says. "What that $13,600 cost me is, I can't drink my water, and the money won't pay for the water I will need
to haul in. We might lose our milk market and our property value will depreciate 80% to 90% now that our water is contaminated."

Despite the known and unknown drawbacks, hundreds of farmers such as Manning, N.D., rancher Wes Devorak are focusing on the benefits. "If I had the choice of deploying American workers to an oil field in North Dakota to stir the U.S. economy or send our troops to procure the same oil, I'd rather have the oil workers in my state," Devorak says.
---