The August 13 natural gas contract plunged below February 28's low of $3.58 today, bouncing off strong support at $3.52. Eight straight weeks of EIA reports have shown net injections to natural gas storage and as the summer air condition season is off to a slow start, inventories are very near the five-year average, keeping a lid on upside action.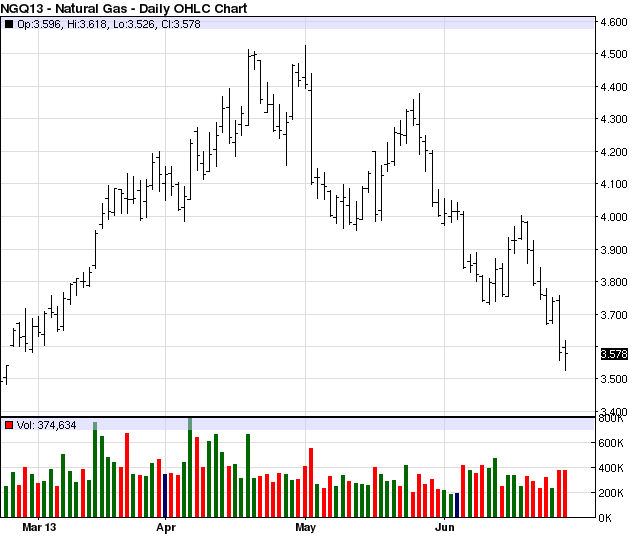 The bulging national supply has taken the industry by surprise and inspired lower than expected pricing through the month of June. Traders have kept the contract range bound on short positions. But unexpected increases may loose front month natgas from Wall Street's profit taking stranglehold.
Next support lies at $3.48, established this year on my birthday, February 22. If that's not a sign, I don't know what is. A break below $3.50 would signal downside potential to $3.48 -- not much of a stretch there. Beyond that, next support is at $3.32.
Bulls need a violation of $3.75 to signal a run back up to $3.91. The forecast is uncertain, but the National Weather Service still believes the weather will return to the hot, dry, dustbowl conditions of 2012 later this summer. Increased air conditioning use would take a bite out of the national supply and inflate spot pricing.
If you have yet to book natgas for fall or for irrigation, now is a very good time.
---