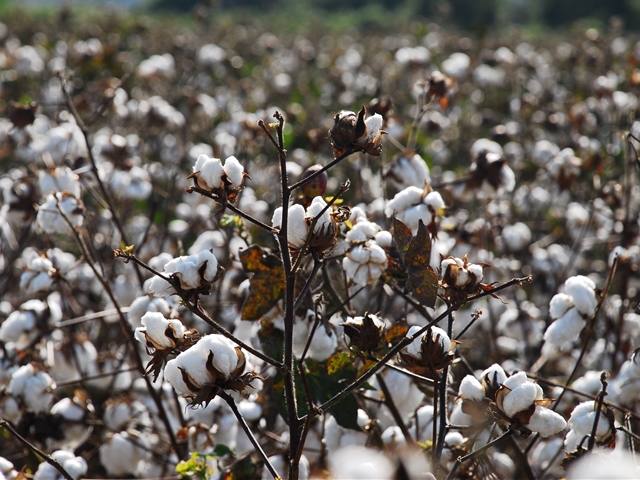 Australia cut its forecast for cotton output by 19 percent to the smallest in five years after dryness reduced planting in the world's third-biggest exporter.
Output may total 470,000 metric tons in 2014-2015 from 580,000 tons forecast in September, the Australian Bureau of Agricultural and Resource Economics and Sciences said in a report. That compares with 885,000 tons harvested a year earlier and would be the lowest since 2009-2010, according to bureau data. Planting runs from September to November.
Futures tumbled to a five-year low last month on expectations that global supply will top demand for a fifth straight season, boosting world inventories to an all-time high. Limited access to water and persistent hot and dry conditions in northern New South Wales and southern Queensland are driving down crop forecasts, Rabobank International said last month. Output may drop as much as 50 percent, producers' group Cotton Australia predicted in August.
The outlook for lower supply "reflects relatively low cotton prices at the time of planting and dry seasonal conditions over winter, which reduced the level of irrigation water in dams serving Australia's cotton-growing regions," Canberra-based Abares said.
Cotton futures reached 58.53 cents a pound on ICE Futures U.S. on Nov. 24, the lowest since September 2009. The contract for March delivery lost 1.5 percent to 59.18 cents yesterday.
Australian production may drop 40 percent from a year earlier, Rabobank said in October. Output may be between 2 million bales and 2.5 million bales in 2014-2015 from about 4 million bales a year earlier, Cotton Australia estimated in August. An Australian bale weighs 227 kilograms (500 pounds).
The country had its hottest spring on record and rainfall between September and November was below-average across most of the country, according to the Bureau of Meteorology. New South Wales, the biggest grower, had its driest November since 2002, according to the weather bureau. In Queensland, the second- biggest producer, 75.5 percent of the state is in drought, the government said in August.
Global reserves will reach an all-time high of 107.36 million bales, each weighing 480 pounds, or 218 kilograms, according to the U.S. Department of Agriculture. Australia may slip to fourth-biggest exporter in the 2014-2015 season as production drops, USDA data show.