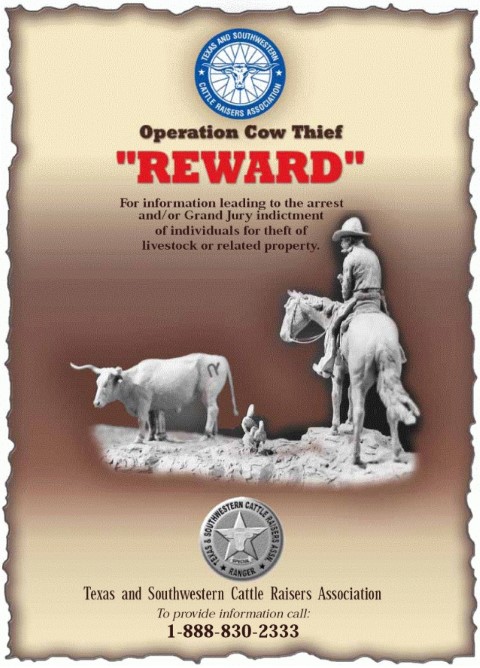 Texas and Southwestern Cattle Raisers Association (TSCRA) Special Rangers Dean Bohannon and Harold Dempsey are seeking information on the theft of 25 head of livestock that were stolen from a Potter County, Texas ranch sometime between Feb. 1, 2014 and Oct. 16, 2014.
According to Bohannon, Dustin Parson, of Albany, Texas, leases the ranch located 20 miles north of Amarillo, Texas on Hwy 287, where the livestock were stolen. Parson is the owner of the missing or stolen cattle. Bohannon said one 5 year-old Charolais bull, 10 head of 3-8 year-old Corriente cattle, nine head of 3-8 year-old black cows and five 500 lbs. black yearling heifers or steers are missing or stolen in this case.
Each head of livestock are branded with an "E" on top of a "Z," behind their right shoulder.
Bohannon and authorities have searched extensively in the area for the cattle, however have been unable to retrieve any of them thus far. Bohannon said he assumes the cattle have been stolen since they have been unable to find any of the missing livestock.
Anyone with further information regarding this case should contact TSCRA's Operation Cow Thief hotline at 888-830-2333 or call Bohannon at 806-789-9476 or Dempsey at 806-356-6101. A cash reward of $3,000 may be paid to individuals who can provide useful information leading to the arrest and indictment of suspect(s). Individuals reporting information may choose to remain anonymous.

Source: Texas and Southwestern Cattle Raisers Association