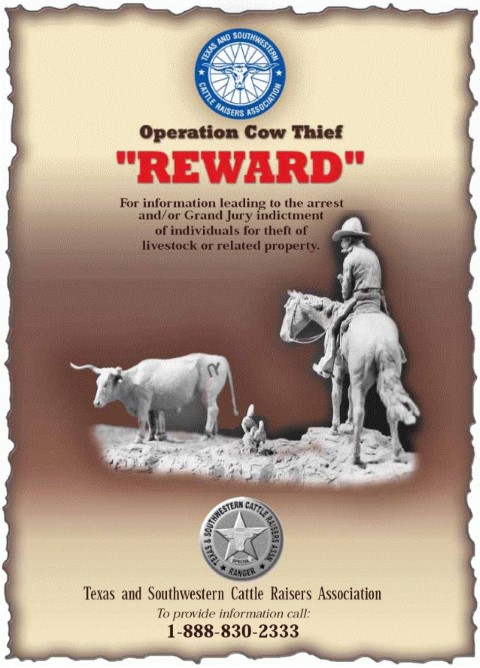 Texas and Southwestern Cattle Raisers Association Special Ranger John Cummings is seeking information on the shooting of a cow in Rogers County.  
At Approximately 6:30 a.m. on Thurs. Feb. 5, a Rogers County rancher found a black 12 year-old black cow shot and killed 30 yards from the intersection of Winganon Road and NS 4200 Road near Chelsea, Okla.  
The cow was shot in the head with a small caliber weapon and the suspect(s) removed the right hindquarters and some of the back strap from the dead cow. The remainder of the cow was left untouched. The cow was heavy-bred and the loss is reported at $2,500.  
According to Cummings, this is the third cow/calf they know of that was killed and butchered in the area since 2010. Cummings worked a similar case in the same area in 2012.  
Anyone with further information regarding this case should contact TSCRA's Operation Cow Thief hotline at 888-830-2333 or call Cummings at 918-342-0888. A cash reward may be paid to individuals who can provide useful information leading to the arrest and grand jury indictment of suspect(s). Individuals reporting information may choose to remain anonymous.   

Source: Texas and Southwestern Cattle Raisers Association