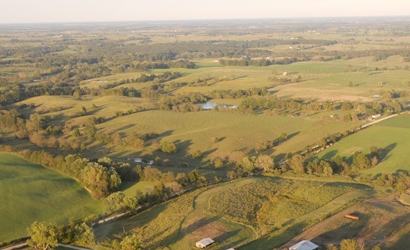 Much has been written about how little—if any at all—cash rents are likely to adjust in 2015. Yet experts say while that might be true for the Heartland as a whole, such statements miss two important points.

First, not all farmland is alike. Second, the cash rent market is locally competitive.



Still, averages matter. In Illinois, average cash rents are likely to drop $5/acre to $10/acre in 2015, says Gary Schnitkey, University of Illinois ag economist. Average cash rents are $300/acre for land yielding 190 bushels per acre.

"I expect average cash rents to decline by $25/acre" if crop prices remain low, Schnitkey explains. "But this will be a multiple-year process." The $300/acre figure mirrors USDA's Illinois cash rent figure for 2014. That's 80% higher than in 2010.

Yet not all figures are in agreement. For example, the Illinois Farm Managers and Appraisers survey released this month shows average Illinois cash rents are $374/acre. Schnitkey doesn't quibble with the results, but he points out the number is more representative of the top end of the market.

"I expect the top end to be down $15/acre to $20/acre for 2015 over this year," Schnitkey says. Over the next several years, he expects these rents to drop $40/acre to $50/acre. These estimates assume corn price will again top $4 per bushel. If they don't, there will be additional pressure on rents.

Schnitkey's average cash rent forecast for 2015 would represent a decline of between 1.7% and 3.3%. His top-end decline projections represent a drop of between 4% and 5%.

That's greater than the average, but in no way does it approach the 25% year-over-year decline in December corn futures. As of Friday, quotes at five grain elevators in Champaign County in Illinois were $2.95 per bushel to $3.06 per bushel.

In light of these facts, it's useful to look at historical cash rents, adds Brent Gloy, a producer in western Nebraska and a former ag economist at Purdue University.

"Average adjustments in one year above 5% would be pretty large compared to the last 30 to 40 years of data," Gloy says. A 25% decline would be "pretty unbelievable."

He predicts while there will be pressure on cash rents, they won't come down very quickly. Gloy notes cash rents also lagged farmland values on the way up.

"They will soften this year and next, but there is a great range in cash rents," he says. Gloy thinks that for $400/acre cash rents in Iowa, "they very well could come down 10% in 2015, maybe even more."

Part of the reason for $400/acre to $500/acre cash rents has been high crop insurance revenue guarantees. This year, corn's spring price was $4.62 per bushel and $5.65 per bushel for 2013. Some farmers were able to use these prices to expand by paying high cash rents, and they still made the numbers work.

Next year could be far different.

At press time, corn futures for December 2015 were $3.70 per bushel. If that figure holds during February, when federal crop insurance projected prices are set, it would represent a drop of nearly $150/acre in the federal crop insurance guarantee in just one year's time at an 85% participation rate.

Crop budgets for 2015 from the University of Illinois show a land and operator return of just $100/acre for corn after corn with 194-bushel yields and a $3.80-per-bushel price.