Higher income and fewer allowable deductions might create a taxable income double-take
With corn prices down at least 25% from year-ago levels, 2014 taxable income won't be a big deal, right? As counter-intuitive as it first appears, many farmers might have more of a tax problem in 2014 than they think.

Higher crop income in 2013 rolled into 2014, and strong livestock profits have prompted Ronald Moore to be more strategic about his taxes and deductions.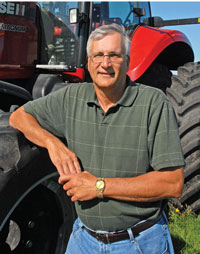 With higher 2014 taxable income than anticipated, Section 179 is an indispensable tax-planning tool for Illinois farmer Ronald Moore.
"We've prepaid a lot of our 2015 expenses," says the Roseville, Ill., corn, soybean and cattle producer. In addition, he's rolling his 2014 crop income into 2015 and might use income averaging. He is less concerned about a tax bite in 2015 because of low crop prices, so it only makes sense to shift income to next year.
Many crop farmers could encounter a similar tax-induced cash flow squeeze. For example, fall 2013 corn futures were more than $1 per bushel higher than quotes for December 2014. Like many years, farmers sold fall 2013 corn using deferred contracts, so income could be rolled into 2014. In addition, some farmers forward priced grain in March 2014 when corn prices were $5 and soybeans were nearly $14. This combo might create hefty taxes for the year.
Even livestock producers are facing some of their strongest profits in decades.

Those farmers who have used lucrative income to catch up on deferred income should be OK, says Mark Olson, CPA and partner with Conway, Deuth & Schmiesing, PLLP, in Willmar, Minn. "They have offset some of the increased income with Section 179 and bonus depreciation as they modernized equipment. Those who have made large asset purchases to keep tax liability as close to zero are another story," he adds. "The combination of higher taxable income and fewer allowable deductions might create a taxable income double-take." 

Since Moore has taxable income he wasn't expecting, he's exploring tax mitigation strategies. He's not alone. There's still time to keep 2014 taxable income within bounds, but you'll want to meet with your accountant soon. 
---
Tax Developments to Discuss With Accountant
Section 179 and bonus depreciation: At $25,000 for 2014, compared with $500,000, Section 179 basically doesn't exist, says Glen Birnbaum, CPA with Heinold Banwart, Ltd., East Peoria, Ill. Also not in play is 
bonus depreciation, which allowed farmers to expense 50% of new purchases in 2013. Congress might still extend Section 179. Odds are they will pass it with a $500,000 cap by year's end, Birnbaum says. A House bill makes Section 179 permanent at 2013 levels, and a bipartisan group of lawmakers in the Senate supports extending it to this year at $500,000. The White House has threatened to veto a bill that contains the House version of bonus depreciation.
New IRS regulations: The IRS has issued new regulations on what is classified as repair and can be expensed, versus what is extending the life of equipment and must be depreciated over seven years, says Brad Palen, a principal with Kennedy and Coe, Salina, Kan. The new regulations will impact all farm businesses in terms of expenditures required to be capitalized and depreciated over time versus current year deduction. In addition, the regulations have added new criteria to determine what constitutes a capital improvement, a repair and a material/supply. "The new regulations are complicated, so it's important to consult with your tax adviser," Palen says.
---
Strategies to Reduce 2014 Taxable Income
Be ready to move on Section 179. Should Congress up Section 179 limits, offset with deferred grain payment contracts. Here's an example from Glen Birnbaum, CPA with Heinold Banwart, Ltd., East Peoria, Ill. Say a producer makes several grain sales with deferred payment contracts for $200,000 each and bought equipment in 2014 totaling $200,000. To keep 2014 taxable income low, he decides to roll forward the income from grain sales into 2015. However, if Congress extends Section 179, he could elect to take the deduction and instead of rolling forward all deferred income, take $200,000 of it in 2014 instead of 2015. The equipment purchases and the $200,000 grain sale will offset each other. "This is the biggest thing farmers can do to reduce taxes this year," Birnbaum says.
Maximize prepayment rules. Prepays cannot be greater than 50% of all expenses, including crop inputs and allowable capital expenses,  Birnbaum explains. Say total farm expenses for 2014 are $1 million: $600,000 in non-prepaid expenses for the 2014 crop and $400,000 in prepaid expenses made in 2014 for the 2015 crop. The 50% of allowable prepaid expenses applies to the $600,000, so farmers are allowed to take a maximum of $300,000 as prepaid expenses in 2014. There's a way around this in some cases, however. If, because of Section 179 and bonus depreciation, allowable prepaid expenses the previous three years (2011, 2012 and 2013) average out at $400,000, producers could use that average and thus prepay $400,000 for 2014 instead of the $300,000 as it first appears, Birnbaum says.
Income averaging. While not new, this might be the year to use income averaging. It is particularly important for producers in the top tax bracket, which Congress increased from 35% to 39.6% in 2013. So instead of the top bracket, producers might qualify for the 25% bracket, Birnbaum says
Roll forward crop insurance revenue for yield loss. If a crop insurance payment is made in 2014 for crop loss and the crop is typically sold the following year, producers are allowed to roll their 2014 crop insurance check into taxable income for 2015. But if the 2014 crop insurance check is for revenue loss, not yield loss, the proceeds cannot be rolled forward into 2015, Birnbaum says. So if a producer has a claim in 2014—as many producers will—he or she should ask the insurance company to hold the check until 2015 or file the paperwork late enough in the year so payment won't be made until 2015.