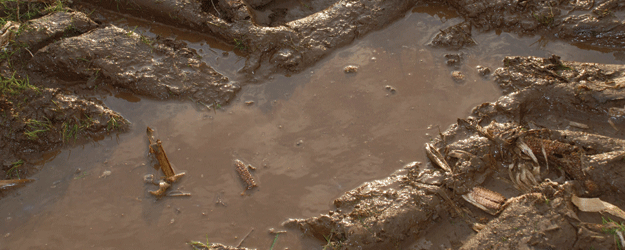 The calendar may say it's time to get in the fields, but the soil conditions should determine our actions.
 
By Sjoerd Duiker, Penn State University Extension
After a long winter, most of us suffer from cabin fever and we want to get out and busy. This is especially the case for farmers and custom operators. The pressure is on with a short time window to do field work before planting season begins. However, soil moisture conditions may be suboptimal for field work and the danger of causing soil compaction is very high right now.

The effects of soil compaction caused now may haunt us the rest of the season, and even in years to come. Research has shown that surface soil compaction effects can linger for up to five years, and subsoil compaction effects can last for 10 years or more. The 'ball test' is an easy way to figure out if soil is too wet to get into the field: Grab a handful of soil and mold it in your hand. If it sticks together as a ball, the soil is too wet for field operations. Don't only take soil from the surface; also take some soil from a foot deep or so. It may be impractical to wait until all of the field is fit, but at least check that 80-90% of the field is ready before starting field work.

Some other practices that can help mitigate the effects of field traffic include:
Cover crops: A vigorous cover crop with a massive, fibrous root system acts like a living 'geotextile', providing protection against compaction.
 
Organic matter: A soil with high organic matter ('humus') content has a better ability to withstand compaction.
 
Permanent no-tillage: Soil that has been no-tilled for several years develops a unique structure with a firm soil matrix to hold up weight while being laced with macro- and micro-pores that provide essential aeration and percolation.
 
Drainage: Artificial drainage helps remove free water from the subsoil allowing faster field access in the spring. It is only effective where you have a shallow water table either year-round or during parts of the year.
 
Low tire pressure: Low tire pressure helps reduce surface compaction. Tire pressure should be below 35 psi, but it would be much better if run at lower pressures (new tires are available that can be run at 10-12 psi). Check loading charts to make sure the tire can handle the load it is carrying.
 
Radial tires instead of bias-ply tires: Radials have a much bigger footprint and more even distribution of stress than bias ply tires so they cause less surface compaction.
 
Tracks: Tracks have the same effect as low pressure in tires. It is important to have many rollers as stress is concentrated under the rollers and axles supporting the tracks.
 
Low axle load: Keep axle load as low as possible, but at least below 10 tons per axle. Don't assume weight is distributed evenly over all axles but check each axle on a loaded vehicle or implement. Axle load determines depth of stress penetration in the soil, so it controls subsoil compaction.
 
Avoid random traffic: If there is repeated traffic it is better to concentrate it in certain paths which can be 'sacrificed' or signaled for compaction alleviation later on.
 
Reduce number of passes: Use no-tillage, and use wide equipment which reduces the proportion of the field trafficked (for example a wide-swath manure spreader causes less compaction than a narrow-swath spreader).