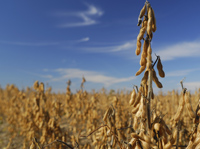 Amid the present bear market, there's at least one positive note for soybeans, says Sue Martin, Ag and Investment Services.
"I think what we've got is a pretty awesome export book started on beans," Martin tells the U.S. Farm Report Marketing Roundtable.

Now, the question is whether South America will produce a mega crop with negative price implications for U.S. producers. Farmers in the southern portion of the continent have experienced weather that's too wet, whereas farmers to the north have experienced dry conditions. Meanwhile, political decisions could also move markets.
"In Argentina, the government's changing some laws, and they're really entertaining the thought of forcing the farmer to have to sell his beans," Martin continues. "If that happens, that's going to come into play because we've been enjoying all of this wonderful demand from soybean meal for the crush because they've been absent, more or less, in our world market."
It's true factors in South America could put pressure on soybean prices, agrees Rich Nelson, Allendale.
"We do think it will be a problem," Nelson says. "What I do like for … now is that China does have good crush margins. They've actually responded very well from the very low numbers we were talking about back in August. Part of that process, like Sue did mention, we've got great exports so far. As long as we can pack these exports into the next two or three months, I think we can actually do OK as far as U.S. numbers. For the South American impact, we've got nothing but of course large supplies coming down the road."
Click the play button below to watch the complete U.S. Farm Report Marketing Roundtable segment:
---
Want more? AgWeb readers are sharing fresh marketing insights every day. Click here to join the conversation or to start your own.