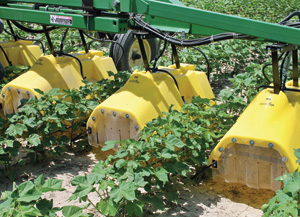 Hooded sprayers make a comeback
Sometimes what's old becomes new again. That's certainly true for hooded sprayer use. The sprayers made a strong comeback as a weed control tool in 2011as Southern cotton growers sought additional measures to manage resistant weeds. New hood engineering is also adding to the interest.

Jason Norsworthy, a University of Arkansas associate professor of weed science, says the practice became particularly important when pre-emergence herbicides failed to get activated in cotton and, in some cases, soybeans. He expects to see more hoods put to use this year.

"Growers wrestling with Palmer amaranth have learned they need a way to control escapes," Norsworthy says. "There is no over-the-top option to control resistant Palmer amaranth in Roundup Ready cotton."

Larry Steckel, a University of Tennessee row crop weed specialist, says many growers set their hooded sprayers aside or sold them when Roundup Ready Flex cotton caught on. Farmers in his state are now putting hoods back in action or using them for the first time.

Tennessee has more than 2 million crop acres that contain at least one resistant weed. "We're now spending an additional $50 an acre in cotton for Palmer amaranth alone," Steckel says. 
Make direct contact. Hooded sprayers ensure good herbicide coverage as the weeds go through the spray boxes. The efficacy of contact herbicides is ratcheted up or down, depending on how well the weed is covered by the herbicide. Better coverage typically means better control.

"If we keep the hoods down on the ground, we can use Gramoxone, which we couldn't use previously," says Chuck Ellis, a Dooly County, Ga., cotton Extension agent. He adds that cotton growers in his area never stopped using hoods because of their effectiveness in weed control.

Norsworthy recommends overlapping residual herbicides throughout the season in order to optimize control of Palmer pigweed. "Using hoods allows growers to use contact herbicides in the row and reduce the cost of hand-weeding or hoe crews," he adds. "Arkansas growers typically use 2.5 pints of Gramoxone and 1 pint of Direx under the hood and postdirect Direx out the back of the hood to get a reduction in [weed] seed production."

Darrin Dodds, a Mississippi State University cotton Extension specialist, knows that some growers find hoods time-consuming. "But we have to get the residuals down," he notes.

To improve their success with hooded sprayers, farmers must properly set, calibrate and maintain the equipment.

"Keep the hoods on or very close to the soil surface. Be sure that hot materials being applied do not blow out of the hood," Dodds says.

Steve Woodham, a field sales representative for Willmar Fabrication LLC, says the shape of the 915 Spray Hood the company introduced in spring 2011 allows for better spray coverage with less potential damage to the plants.

"Even with the best residual herbicides, you're going to have escapes due to the pure numbers out there or weather-related events," he notes.

Woodham says the hood works well in 3" tall cotton through lay-by with recommended herbicides.
Steckel is hopeful that increased hooded sprayer use will help cotton growers get a leg up on weed resistance. "If we can direct another herbicide mode of action into the row, then we can work on this pigweed and maybe we won't get resistance to Ignite like we have with Roundup. If that happens, we're sunk. We have to steward these herbicides."
---