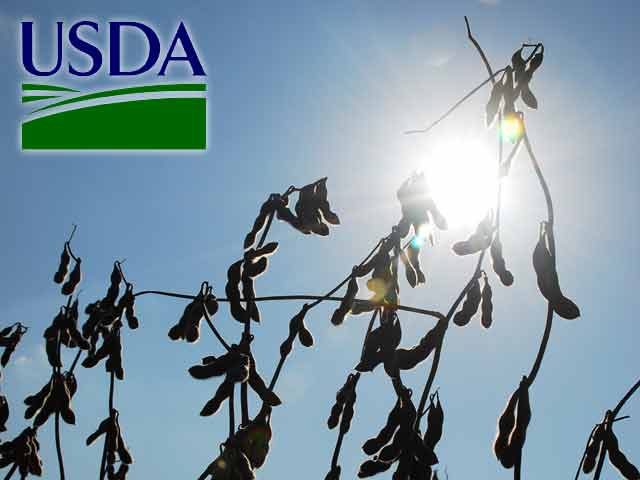 "It did not offer anything for the bulls," said Tom Leffler of Leffler Commodities in Augusta, Kan. "The bulls all got castrated."
USDA's November World Agricultural Supply and Demand Estimates and Crop Production numbers came in even more negative than analysts expected, with USDA pushing its projections for soybean yield and production to new records.
"It did not offer anything for the bulls," said Tom Leffler of Leffler Commodities in Augusta, Kan. "The bulls all got castrated."
Leffler noted that USDA's updated supply and demand projections for the 2015-2016 marketing year were negative across the board for corn, wheat and soybeans, but particularly so for soybeans. "You're looking at record soybean yield, record soybean production, large increases in ending stocks," he said. "It's not a pretty picture."
USDA raised their soybean yield estimate by 1.1 bu./acre to 48.3 bu./acre, lifting the size of the U.S. soybean crop by 93 million bushels to a record 3.981 billion bushels. The estimate on ending stocks jumped to 465 million bushels, up by 40 million bushels from USDA's October estimate.  
The big jump in the ending stocks figure creates an even more supply-bearish scenario than before, added Brian Hoops, president of Midwest Market Solutions in Springfield, Mo.
"Soybean ending stocks grew from 425 (million bushels) to 465 (million bushels). That is a huge number to absorb," Hoops said. "When we compare it to last year at this time, we had 191 million bushels of ending stocks to work through. So, we were already double the larger amount of any time during the last eight years, and we've added to that burdensome level. This is what is going to keep rallies in check throughout the winter months. We'll definitely be looking to South America if we have some sort of production problem or weather issues as an opportunity to see the market recover, and I would suspect that producers should be aggressive sellers on that rally."
USDA's October corn estimates, meanwhile, were not nearly as bearish as soybeans, according Hoops. "We are below last year's production levels as far as yield and overall production, but certainly larger than last month," he said.
USDA's corn yield estimate was raised to 169.3 bu./acre, up 1.3 bu./acre from their October estimate with the size of the corn crop increasing by 99 million bushels to 13.654 billion bushels. The forecast on corn ending stocks, meanwhile, was raised to 1.76 billion bushels, up 199 million bushels from last month.
The world corn numbers, Leffler added, were shocking with USDA's world corn ending stocks estimate leaping by 24.08 million metric tons to 211.91 million metric tons with nearly all of the additional tonnage coming from huge increases in Chinese stocks due to a much smaller usage rate.
For wheat, USDA bumped the ending stocks figured 50 million bushels higher to 911 million on reduced export demand, which Hoops says was no surprise given that U.S. wheat is not competitively priced on the export market. "The stocks number is 160 million larger than a year ago," Hoops said. "With a poor export pace, that leaves us little reason to believe we're going to chew through the stocks number anytime soon." 
January soybeans ended Tuesday's trading session 10 ¾ cents/bu. lower at $8.55 ½/bu., after notching a new contract low of $8.50/bu. December corn fell 7 ¾ cents/bu., to $3.59/bu., after recording a new contract low of $3.56/bu. Chicago December wheat dropped 11 cents/bu., to end at $4.90 ¾/bu.