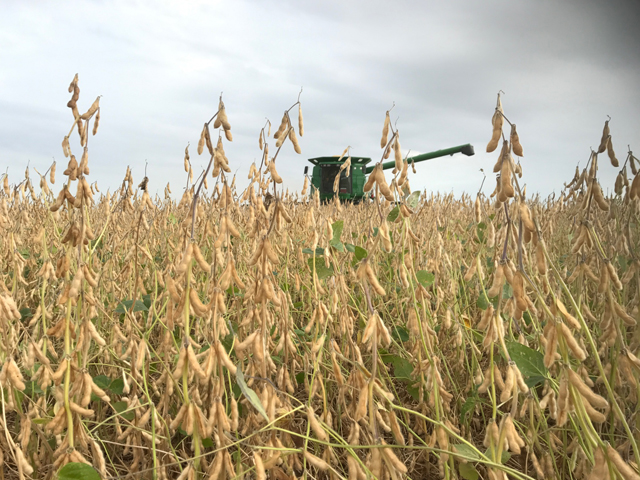 One of the biggest compliments Midwest row-crop farmers can receive is having landlords come to them with leasing opportunities. For Bailey Family Farm in Iola, Ill., this happens all of the time.
Brothers Zach, Cole and Mason Bailey represent the farm's third generation of leaders. They produce corn, soybeans and wheat. Along with their father, Darren, they have more than doubled their acres in the past six years.
Zach and Cole had left the farm to seek education and careers outside of agriculture. But in 2012 growing families tugged the brothers back home and Darren happily welcomed them into the business.
"Their wives were pregnant with our first grandchildren and they wanted to come home and raise their children like they were raised," Darren says. "I knew that when they came back we had to have open dialogue continually and good communication. So we routinely have family meetings with the wives present because I know sometimes even on my behalf when I when I went home I would harbor some frustration. And you know I would talk to my wife about it."
The Baileys knew the operation wasn't large enough to support three families. So, Zach and Cole attended educational seminars and developed goals to operate at peak efficiency and grow.
"When they came back we just exponentially growing mainly due to the fact that you know people like what we're doing and the Lord's blessing to almost 12000 now," Darren says. 
In addition to growing, they zeroed in on expenses at a micro level. That strong understanding of farm finances is now a cornerstone of the operation. Balance sheets and income statements inform daily decisions.
"The numbers the numbers management and knowing the cash flow and being able to adapt and adopted that that's the planning part of it is going to be the most important part of agriculture I believe," Darren says.
Today, the farm includes 12,000 acres in south-central Illinois. The Baileys' crop rotation is driven by profitability. They have grown only soybeans for the last two seasons. This year, they plan to grow 100% non-GMO soybeans to capture premiums and control costs. Intensive production practices protect their soils and fertility and, ultimately, yields.
"Rather than saying we want to be at 20,000 acres in five years or we want to farm 30,000 acres in 10 years, we want to be the absolute best at what we do," Zac says.
Congratulations to Bailey Farms for being a 2018 Top Producer of the Year award finalist.
Thanks To The 2018 Top Producer Of The Year Award Sponsors:
Courtesy of Bayer, each finalist receives CEO coaching sessions with Sarah Beth Aubrey with Aubrey Coaching & Training and a Top Producer columnist, and a trip to this year's Commodity Classic. From Case IH, the winner receives use of a new Case IH tractor for 150 hours of use or six months.
The award honors three producers whose operations are at the forefront of agriculture and crowns one winner. Entrants are judged on entrepreneurial originality (50%), financial and business progress (30%) and industry or community leadership (20%). All three finalists receive trips to the Summit, CEO coaching sessions and other prizes. The winner also receives a lease of a Case IH tractor. Download the application and apply by Aug. 30. Sponsored by Bayer and Case IH