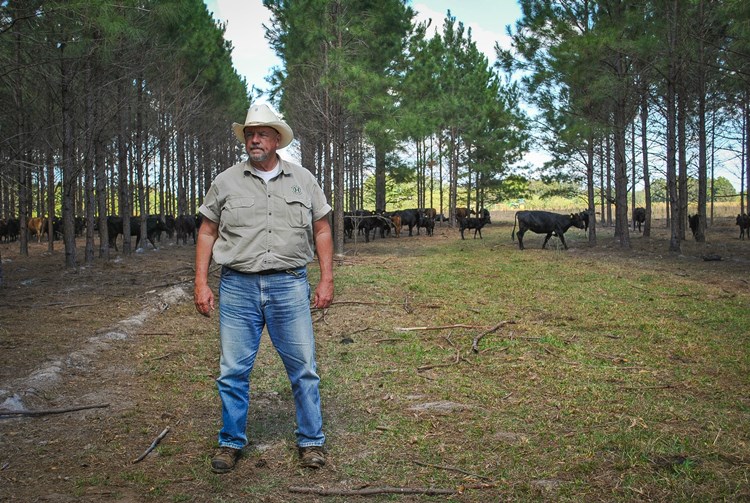 What began with a single bald eagle perched in a pine tree has developed into an 80-eagle, apex predator ensemble feasting at Will Harris' chicken buffet. In early March, Harris stares up into a patch of trees decorated with 10 bald eagles that ignore his presence and stare down intently at his flocks of free range chickens. The raptors are finally preparing to migrate north toward summer ground, but Harris knows they'll come back. They always come back. Annual six-figure losses on Harris' operation have turned the initial bald eagle presence from idyll to nightmare.
When the bald eagle population began decimating poultry numbers at White Oak Pastures in Bluffton, Ga., Harris sought farm bill compensation from the Farm Service Agency (FSA) through the Livestock Indemnity Program (LIP). When the process reached the state FSA level, his application caught a red light and hit a solid wall of resistance. What happens when a producer feels all the required boxes are checked regarding just compensation, yet no satisfactory judgement arrives? Fourth-generation producer Harris is demanding answers and accountability.
His predicament has lifted the curtain on a jumble of questions related to producer compensation, FSA procedure, conventional agriculture and government regulation. Harris, 62, produces beef, hogs, lamb, rabbits and organic vegetables on 2,500 acres in a far-ranging operation with 137 employees. He'd never raised a feathered creature on the farm until 2010, when he bought 500 Red Ranger broilers from S&G Poultry in Clanton, Ala. Free range chicken production thrived at White Oak and 500 birds per week surged to 5,000 per week. (Harris also added ducks, geese, guinea fowl, laying chickens and turkeys.)
An avid naturalist, Harris was delighted when the first pair of bald eagles arrived in 2011. Word travels fast in the avian community: A dozen bald eagles showed up in 2012, and 40 more followed in 2013. By 2016, Harris' chickens played host to 78 bald eagles according to a Georgia Department of Natural Resources count. The eagles typically arrive in October and leave in March, although Harris says a few remain throughout the year.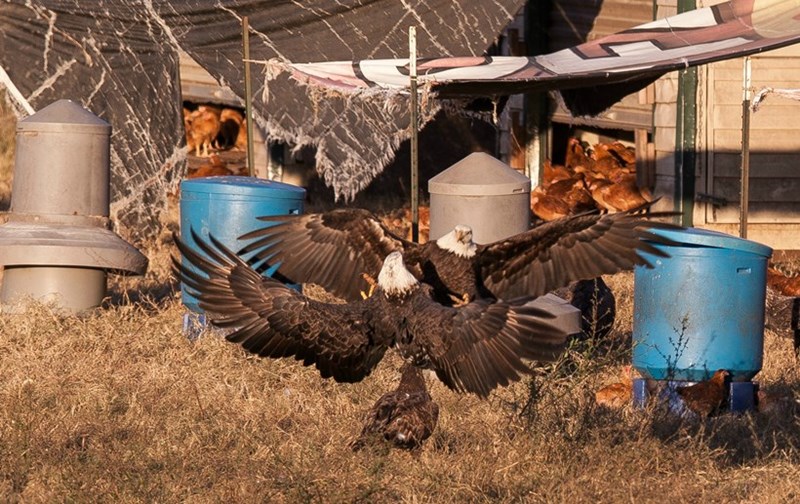 During winter months, the eagles kill more than 100 chickens every day and thousands of chickens per month. They feed from just before daybreak through mid-morning, then nap till mid-afternoon in the trees, and return in late afternoon to feed again until dusk.
Essentially, the eagles are picking the meals right out of Harris' pocket. The raptors usually land and take their pick of the chickens; majestic swoop and scoop acrobatics are a rarity. "They just hop along and make their kills," Harris says. "We're talking literally every day during the winter months."
The spectacle is more fitting to Alaska than south Georgia, says John Benoit, poultry manager at White Oak. "First, the eagles killed solely for food, but now it's for sport too," Benoit adds. "They'll hop around killing and then fly away with or without food."
Harris obtained a non-lethal permit to scare away the raptor population (killing a bald eagle carries a $100,000 fine and potential incarceration), but after cannons, flares, sparklers, carwash scarecrows, netting, tarps and 15 dogs, nothing has worked long-term. They always come back.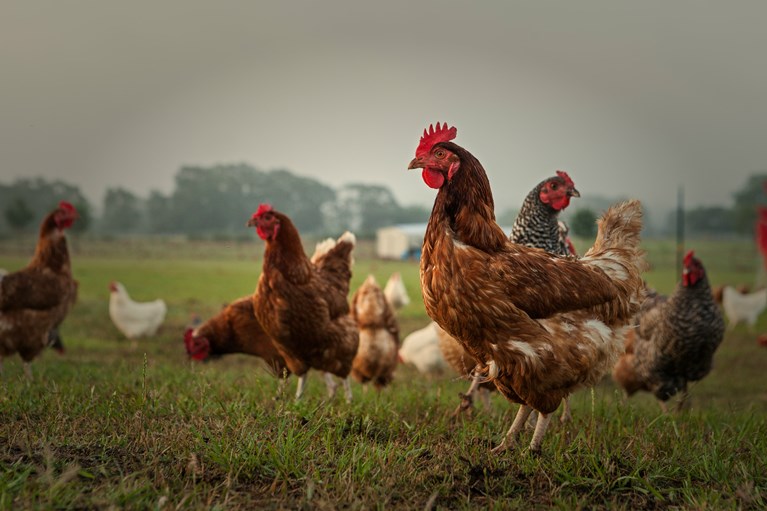 With meticulous record-keeping, Harris documented his losses, exceeding $125,000 in poultry losses in 2015 and again in 2016. (He expects greater losses after 2017 numbers are tallied.) LIP pays up to 75% market value per dead animal, subject to reduction for natural mortality rates, with total indemnity capped at $125,000 per year. When Harris applied for LIP help, Early County FSA approved his request, but Georgia FSA balked.
Georgia's state rate for conventional indoor poultry mortality is 4%, and when Georgia FSA countered Harris with an offer based on a mortality reduction of 40%, he was outraged: "I put out 5,000 chickens every week. I'm supposed to expect 2,000 to die? Ludicrous. Ridiculous. Bizarre."
Michael Booth, public affairs specialist with USDA-FSA, says the Georgia FSA state committee "sets mortality rates applicable to all participants within the state based on what it considers to be the best available information." (However, citing pending litigation, Booth didn't offer the sourcing behind the 40% mortality claim and declined to address the specifics of Harris' contentions.)
White Oak former communications and special projects manager Angela Huffman responded to FSA by gathering a compilation containing more than a dozen reports of peer-reviewed research on mortality rates for pasture-raised chickens. The consensus of the research showed a mortality rate of 10% or lower: "FSA's 40% claim appears to be arbitrary and without any reasonable basis," she says.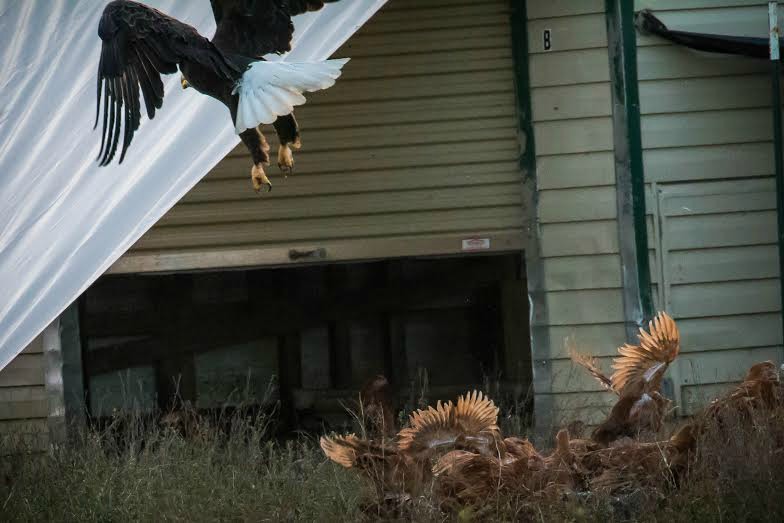 After Harris gave the committee copies of Huffman's research compilation, FSA lowered the mortality estimation from 40% to 18%. (When asked about sourcing for the 18% rate, FSA officials again declined comment.) Jean Turn, comptroller at White Oak, says FSA has no research to back up its mortality numbers. "The drop from 40% shows a high level of capriciousness, but even 18% is still outrageously high. They're not used to having people fight their decisions."
When Harris protested the 18% offering and asked to address the committee a second time, he says the FSA door slammed shut: "They rejected me outright and said I can't prove my chicken losses."
However, Harris has an extensive paper trail (and a convocation of eagles hovering over his property) to back his assertions. He buys 5,000 chickens per week from S&G Poultry, paid for by check upon delivery. Brooder losses are monitored over three weeks and he knows precisely how many die and how many are pastured. Harris also has an onsite poultry processing plant (exclusively for White Oak) where a USDA inspector signs off on the daily slaughter of 800 to 900 chickens. "I know exactly how many birds go missing," he says, "but how can a farmer prove every single loss with 100,000 birds out there on 2,500 acres? It's ridiculous and I've got a hell of a problem with USDA's behavior."
His lawyer has objected to FSA actions and in the meantime, Harris is forced to wait on another FSA ruling while he pays out of pocket for chicken losses and legal fees: "The bald eagle is federally protected and it should be. I also have a right to raise livestock."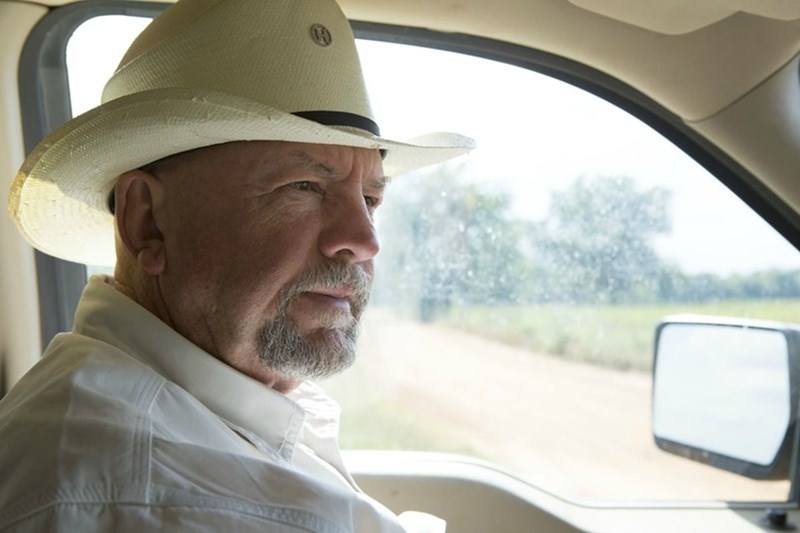 In 1782, the bald eagle was recognized as America's national bird. In 1940 and 1972, the bald eagle gained benchmark levels of federal protection. In 2015, the bald eagle became the centerpiece of a financial and regulatory nightmare on Harris' Georgia farm. Harris finds himself caught between the caprices of the next FSA ruling and the certainty of a bald eagle return above his flocks.
"The eagles will be back and probably even in greater numbers," he adds. "I can't explain FSA's actions but there's more than meets the eye to this grossly unjust situation."