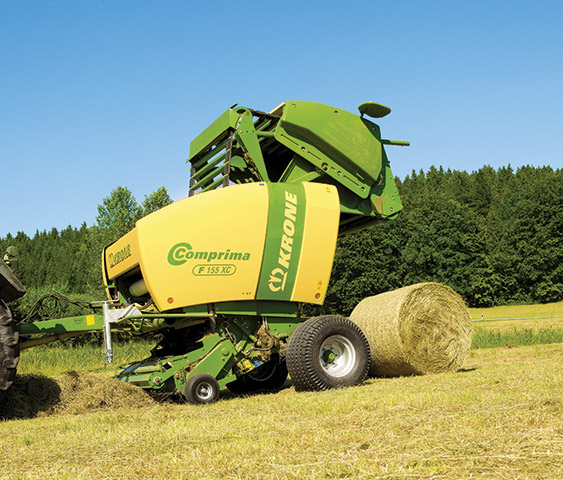 With more than seven new products for 2015, Krone continues to expand its hay and silage lineup in North America. The Comprima line of round balers now includes three additional models all with the ability to bale at high densities and high throughput while providing smooth operations. 
 
A fixed chamber baler, the F 155 XC produces a semi-variable bale size at 4' wide and 39" to 60" high. The bale size can be adjusted by manually moving a set of pins toward the rear of the baler. Equipped with more than 17 knives, the X-Cut knife system helps produce ideal bales for TMR mixers. The knife drawer folds down hydraulically from the tractor cab to allow any blockages to pass through the baling chamber, eliminating the need to exit the cab.

With similar production advantages as the BiG Pack large square baler, Krone released the Comprima V 150 and Comprima V 180 round balers. The models produce 4' wide bales and use a variable chamber for heights of 39" to 60" with the Comprima V 150 model and 39" to 72" with the Comprima V 180 model.  

All models are equipped with the camless EasyFlow pickup, which requires 58% fewer moving parts, leading to less wear and results in a 30% faster pickup for increased efficiency. The Novogrip belt and slat elevator system uses a set of endless belts created from layers of fabric and rubber for additional durability. The slats rotate the bale without slipping resulting in denser bales in all types of crop and conditions.

Visit your local dealer for pricing. For more information on 2015 releases, including a roller conditioner, two triple mowers and a tedder model, visit www.krone-northamerica.com.