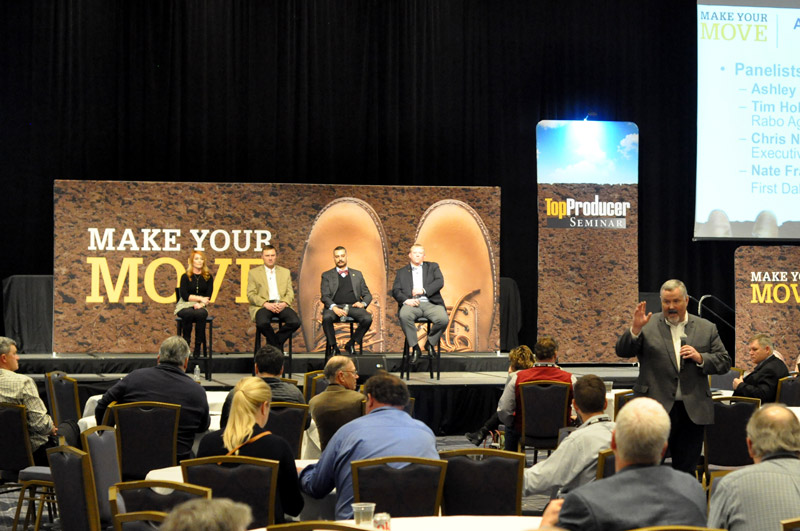 "We have to have open lines of communication with our clients," says Nate Franzen, president of agri-business with First Dakota National Bank.
That may sum up the main message from the "Ag Lender Expectations, Wants and Needs" panel at the Top Producer Seminar today in Chicago, Ill.
The panel was moderated by Chip Flory, AgriTalk Host and Farm Journal Economist on Thursday. Banking experts on the panel included Ashley Arrington, with Agri Authority; Tim Homan of Rabo AgriFinance; Nate Franzen of First Dakota National Bank; and Chris Narayanan of GA Capital LLC.
The investment bankers' and consultants' discussion ranged from credit conditions to lenders and to managing risk. The panel first talked about financial conditions with farmers in their regions.
"We were pretty fortunate this past year [with peanuts and cotton in the South]," says Arrington. "The financial conditions seem to be improving. However, there are some [farmers] that this past year were do-or-die. We are more leveraged in the Southeast [because] we have specialty equipment, and we have different equipment."
"Some people if they're hanging on and they're not making money, I don't see anything changing [unless rents change] over the next two or three years," Homan says. "Without the light at the end of the tunnel, other things need to be done to make your operation more efficient by lowering those break-evens."
Homan says roughly 93% of his clients were making money during "the super cycle" when grain prices were higher. Two years ago, 60% of clients in his bank made money while 40% lost. Last year it was split. Homan adds that the picture looks better this year, with roughly 70% of his clients making money, with part of that being due to producers diversifying with cattle and hogs.
"I'm optimistic it's going to be a fair amount better. I think a lot of folks are close on the margin and the numbers are surprisingly good for me," adds Franzen, regarding his clients, farmers in the Northern Plains.