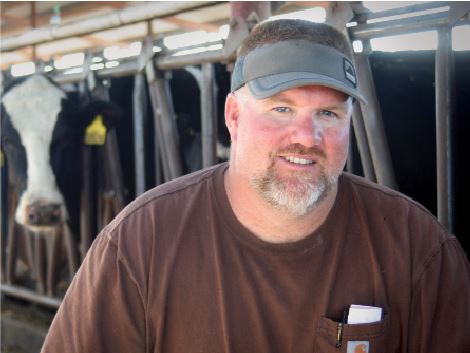 Without a dollar into it, a California dairy generates income from an anaerobic digester
For years, Arlin Van Groningen resisted the urging of his local utility district to install an anaerobic digester on his dairy near Galt, Calif.  

Van Groningen had relocated his herd 185 miles north from Visalia in 2006 and had his hands full with re-establishing his dairy. The Galt site, 25 miles south of Sacramento, already had what Van Groningen considered an efficient, centralized manure management system. He wanted to concentrate on cows, not technology. Moreover, he had heard enough negative stories about dairy digesters to dampen any enthusiasm he might have for a methane-capturing system.

Bonus Content
Web Resources
But today, Van Groningen and his dairy partner, Arlan Van Leeuwen, have a 1-million-gallon, above-ground digester tank in operation at their 1,550-cow dairy—and they're happy with it. Eighteen months after the digester went online, it's performing smoothly, generating electricity for the grid and providing their New Hope Dairy with a steady monthly income.

"I give the Sacramento Municipal Utility District (SMUD) a lot of credit for making this happen," Van Groningen says. "If this dairy had been located 1.5 miles to the south, this project would not have happened."
That's because that short leap across the county line lands in Pacific Gas and Electric (PG&E) territory, not SMUD's. PG&E, California's largest utility, has not favored biogas in its quest to fulfill "green" energy requirements. Biogas, however, has been important for SMUD, the nation's sixth-largest community-owned electric service provider.

"SMUD opened the doors for finding outside entities to fund, build and operate the digester," he adds.
SMUD introduced Van Groningen and Van Leeuwen to several companies that could take control of a biogas digester project. Ultimately, the dairy partnered with MT Energie and California Bioenergy. The two companies designed, built and operate the digester. They lease the site from New Hope Dairy and assume all project liability. Under the agreement, the dairy supplies the manure, which provides a constant income.

"We don't have a dollar into the project," Van Groningen says. "We sell them the manure, they harvest the biogas."

The project cost $4 million and took three years, including seven months for construction. SMUD received $5.5 million in grants from the U.S. Department of Energy and the California Energy Commission to help fund digester construction at New Hope and other nearby dairies. Four dairy digesters now operate in SMUD's territory, or about one-third of California's total. Biomass accounts for about 50% of SMUD's renewable energy portfolio.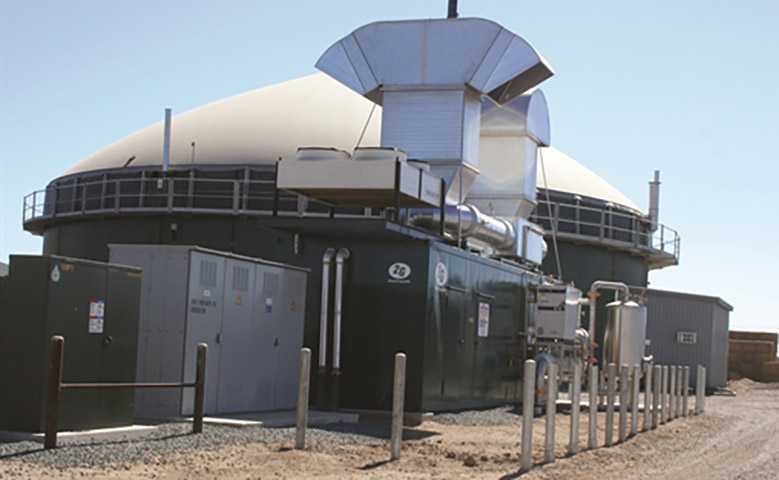 The round tank digester uses 30,000 gal. of manure slurry each day. The biogas travels from the generator to the electricity grid. The silver tower cleans biogas and emissions from the generator.

Van Groningen and Van Leeuwen decided on the massive tank digester rather than a covered lagoon. "A covered lagoon is not as efficient for a digester because it's too susceptible to the outside
environment," Van Groningen says.

The insulated concrete-and-steel tank remains at 105°F all year long. It takes in an average of 30,000 gal. of manure slurry each day. Retention time in the tank is about 40 days.

The dairy uses a scraper system to collect manure six times a day from its freestall alleys. The scraped manure is dumped into a trough at the end of each alley and delivered into the digester tank. The manure scraper replaces a flush system, which significantly reduces greenhouse gases and odor. MT Energie and California Bioenergy own and maintain the manure scraper.

From the tank, the biogas makes its way to a generator and then on to the SMUD grid. The digester can generate 450 kW of electricity. That's enough to power about 250 single-family homes, although New Hope Dairy doesn't get any of that power. The digester's consistent biogas energy helps ease the peak loads SMUD encounters from 4 p.m. to 7 p.m. daily.

While the manure solids are currently sold locally or used on their own fields, Phase 2 of the digester project will involve separating its effluent byproduct to create an organic certified fertilizer that farmers can apply to food crops without any restrictions, Van Groningen says. The dairy also is participating in a study to compare the liquid effluent value to synthetic fertilizers.
In the meantime, development of dairy digesters in California will likely remain slow. To make economic sense, these projects need lower costs for capital, operations and maintenance, says Marco Lemes, a project manager for SMUD's Energy Research and Development department.

"If California wants to see more dairy digesters, there will have to be increased financial assistance, whether from grants, subsidized loans or tax credits," Lemes says.

This simple diagram shows how New Hope Dairy converts its manure into biogas.