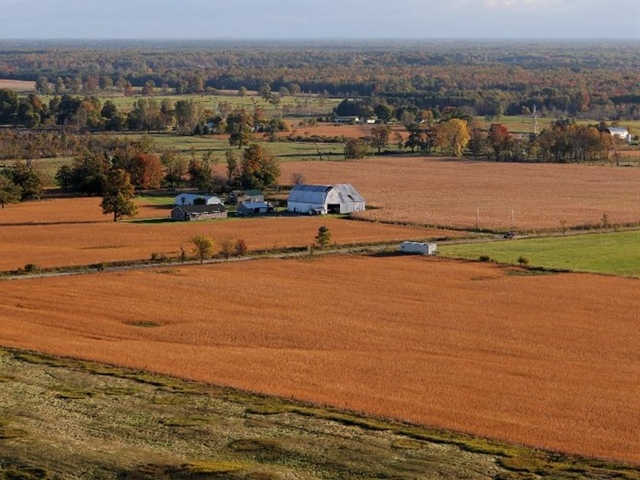 Weak crop prices has not resulted in lower land values in all states, even within the same region, according to two Federal Reserve Bank reports out this week.
Chicago Fed: Bankers Expect Declines in Farmland Values
In the Chicago Fed District, land values fell 2% from the second to third quarter, but year-over-year values on Oct. 1 showed no change.
Moreover, for the quarter, values were up in two states, Indiana, posting a 4% gain; and in Michigan, up 1%. Iowa values, however, fell the hardest, down 6%; Wisconsin, down 4%, with Illinois down 2%. Year-over-year, Michigan values were up 10%; Indiana, up 3%, while Iowa values were down 4%; Illinois, down 1%; and no change for Wisconsin.
The downturn in crop prices of the past two years finally extinguished the trend of rising farmland values that had prevailed in the district since the fourth quarter of 2009. Furthermore, signs of an imminent downturn in farmland values grew based on the banker survey. Only 1% of bankers anticipate that farmland values will increase in October through December 2014 and 43% expect no change. However, 56% forecast a decrease.
This is the first time since 1998—and only the second time since 1985—that a majority of bankers expect a decline in farmland values for the upcoming quarter.
St. Louis Fed: Farmland Prices, Cash Rents Rise
In the St. Louis Fed District, however, farmland values were up both for the quarter and since last year at this time. Quality farmland prices in the third quarter were up 11.8% from the second quarter and up 14.8% year-over-year. Cash rents were also higher in the third quarter, with quality farmland rents up 1.6% from the second quarter. Despite the jump, lenders say they expect farmland prices and cash rents to decline in the fourth quarter relative to the same period last year.
"With the price of corn falling to about $2.60 and soybeans falling below, I do not know how young farmers with no equity built up will pay their cash rent or the payment on equipment and land purchased," reports a Missouri banker. "This is a critical time for the farming community."
Stability in Borrowers vs. Tighter Collateral Requirements
Lenders were asked to assess debt-to-asset ratios for agricultural borrowers. Median responses ranged from a low of 20% to a high of 75%. While close to 44% of bankers report that debt-to-asset ratios have remained stable, 38.2% report a decrease. Only 17.6% of lenders report an increase. "These results suggest that the average financial condition of Eighth District agricultural borrowers has not deteriorated over the past three years," the St. Louis Fed report says.
In the Chicago Fed District, repayment rates on non-real-estate farm loans were lower in the third quarter. Also, loan renewals and extensions on non-real-estate ag loans were up this past quarter relative to the third quarter of 2013. Collateral requirements for loans tightened in the third quarter compared to 2013, as 10% of bankers report more collateral requirements and less than 1% requires less collateral.
The average interest rate on ag loans as of Oct. 1 were 4.89% for operating loans, 5.01% for feeder cattle loans, and 4.62% for farm real estate loans.
What do you think? Share your views via the AgWeb Discussion Boards: Uneven views on farmland values