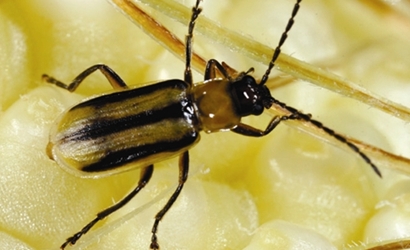 Corn rootworm beetles might thrive this summer
First, the good news: rootworms and rain don't get along. That fact was one of few bright spots this spring for corn growers faced with heavy rainfall during planting season. In water-saturated fields corn rootworm larvae often don't hatch, or they hatch and drown.

Now for the bad news: those heavy populations of corn rootworm that farmers saw in 2012 might still contribute to large numbers this summer.

"You need to take the appropriate management steps this year, assuming we could see just as high of pressure as last year," recommends Clint Pilcher, director of insect resistance management for DuPont Pioneer.

The only way to know for sure what level of corn rootworm pressure is present is to get out in fields and check corn plants and root systems to evaluate feeding patterns. In addition, due to the late 2013 planting season, corn growers need to assess potential damage from adult rootworm beetles.
---
Deeper egg laying and cool spring weather conditions contributed to the later hatch
---
Dennis Calvin, Pennsylvania State University associate dean and director of Extension, notes that corn planted after June 1 is most vulnerable to adult rootworm beetle populations. The late-planted fields are more at risk because the crop will silk later compared to earlier planted fields in the same area. Damage is caused as the adult rootworm beetles feed on corn leaves, pollen and kernels, with the most significant damage caused when beetles feed on corn silks, which interferes with pollination.

Other fields routinely at risk for high populations of rootworms include corn-on-corn fields, especially those planted to continuous corn for multiple years, and first-year corn.

While mid-July is the typical time farmers need to assess the silk-clipping activity of adult rootworms, it will still be important to scout in early August since the rootworm hatch got off to a slow start, according to Mike Gray,

University of Illinois crop sciences professor and Exten-sion entomologist.

One potential reason for the delay is because adult corn rootworms laid their eggs deeply in drought-produced cracks in summer 2012 in an effort to find moist soil, Gray explains. The deeper egg laying and cool spring weather conditions contributed to the later hatch in many parts of the Corn Belt.

Farmers can locate the adult rootworms by checking individual plants around the ear tip and leaves closest to the ear. In appearance, adult western corn rootworms are about 1⁄4"-long with yellow bodies and three black vertical stripes across their backs. Sometimes the stripes are not well defined or appear to merge into a solid black.

Determining the economic threshold when insecticide use is warranted for adult rootworm populations is difficult to assess. "If five or more beetles per plant are present when 50% or fewer of the plants are pollinated, an insecticide application may be worthwhile," Calvin says. (See sidebar at right.)

Once the corn silks turn brown, clipping by adult rootworm beetles does not significantly impact yield, Calvin says.

Even if farmers don't have an economic need to control adult corn rootworms this season, evaluating those populations now is still useful. "By estimating the density of western corn rootworm adults in their fields during the summer months, producers can make more informed management decisions for 2014," Gray says.

Monsanto Company's guidelines for estimating populations indicate: "In general, if adult beetle populations exceed one beetle per plant, the potential for significant yield loss the next season (in that field) may exist if no control tactics are instituted."

Syngenta is telling corn growers to take a long-term holistic look at how to manage corn rootworm across their farm, based on current and historical populations, available technology and integrated pest management practices, says Miloud Araba, technical product lead for corn traits.
Plan ahead. Crop rotation remains one of the best tools to limit the build-up of corn rootworm populations. In the process, DuPont Pioneer's Pilcher encourages growers to use blended-refuge products in rootworm-prone fields. "Science shows the blended-refuge hybrids are one of the best options for delaying rootworm resistance, and they're quickly being adopted and preferred to traditional structured-refuge products," he says.

Monsanto has a similar perspective with its refuge-in-a-bag style hybrids available in its SmartStax line of products. Monsanto is currently working on its next-generation corn rootworm technology, corn rootworm III, which will offer a new mode of action for insect control. Dow Agrosciences will also license this technology for use in its proprietary germplasm.

Agrisure Duracade is the next-generation corn rootworm trait under development by Syngenta. The trait expresses a new protein, eCry3.1Ab (Event 5307), that differs from existing products in the company's lineup. Company officials say the trait will be used in conjunction with other existing Bt traits in stacked hybrids. They are working toward an initial introduction of the technology in 2014.  
Check Corn for Pollination
Prior to applying a foliar insecticide to treat adult corn rootworm beetles, check your corn for pollination. Pull an ear of corn off the stalk and slowly peel the shucks back, being careful to leave the silks intact. Then, hold the ear of corn horizontally and gently shake it. If most of the silks readily drop off, pollination has occurred, and an insecticide application might not pay for itself. However, if the silks stay intact as you shake it, the kernels are not pollinated and treatment might be a good financial decision.
You can e-mail Rhonda Brooks at [email protected].
To learn more about western corn rootworm breaches and control measures, visit www.FarmJournal.com/resistance_update
As corn profits picked up steam during the past decade, farmers used insect-traited hybrids to keep rootworms in check.