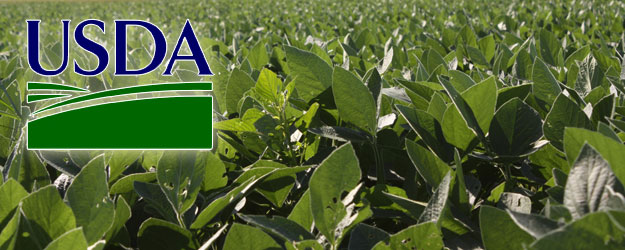 This year's cool, wet summer might not be good for vacationers, but it will boost yields on corn and soybeans enough to make this year's production of corn and soybeans record large by a long shot.
Currently USDA is forecasting a U.S. average corn yield near 165 bu.s per acre and a U.S. average soybean yield of 45.2 bu. per acre, but analysts say both are too low, which means prices still have a ways to drop.
USDA won't update its projected corn or soybean yields in Friday's World Agricultural Supply and Demand Estimates (WASDE), but with the nearly ideal growing conditions, analysts are focused on yield anyway.
Buried in Corn
Allendale, a brokerage firm in McHenry, Ill., says its weather models imply that this year's average corn yield could hit a record-high 167.8 bu. per acre to produce 14.07 billion bushels of corn, 1% more than USDA's latest estimate of 13.935 billion bushels. Record production would also lead to much higher ending stocks of 1.81 billion bushels, up nearly 5% from USDA's latest estimate of 1.726 billion bushels, says Allendale.
The average trade estimate for new-crop corn carryout, which will be a focus of the July WASDE report, is 1.774 billion bushels. Trade estimates range from 1.535 billion to 2.309 billion bushels.
"If you add 5 bu. to USDA's yield of 165 bu., you get a 2.2 billion carryout. That's a lot of corn," says Peter Georgantones, with Roy E. Abbott Futures in Minneapolis. "In cool summers, corn can yield 10 to 15% higher than normal, which would bury us in corn."
Overall, this year's corn crop is in great condition, with 75% of the crop rated good to excellent and another 20% in fair condition, according to USDA's latest Crop Progress report. As of July 6, 15% of the crop was silking, compared with the five-year average of 18%.

Beans Headed to $9
Both Georgantones and Allendale say USDA's latest soybean yield projection of 45.2 bu. per acre is a pretty good number—for now. Allendale puts new-crop soybean production at 3.797 billion bushels, up 4.5% from USDA's latest estimate of 3.635 billion bushels and 15.5% larger than last year's 3.289 billion bushels.

Allendale's increase production number is based on USDA's record-large acreage of 84.8 million acres, up 11% from last year, released in the June 30 Acreage report.
USDA's latest carryout for new-crop beans of 325 million could hold, according to some analysts, but the average trade estimate for new-crop carryout is a whopping 418 million bushels, with the range of estimates from 320 million to 489 million bushels.
"That's a lot of beans," says Georgantones. "We haven't been that high in several years. When all is said and done, carryout will be closer to 400 million bushels, but USDA won't go there in this report." He expects the carryout to be closer to 325 million bushels in Friday's report.
Eventually, this year's record large acreage and strong yield will push soybean prices to $9 or $9.50 per bu., predicts Georgantones.
"The crop has miniscule issues," he says. "A few bad acres in Minnesota or South Dakota won't mean much."

World Numbers to Climb
World ending stocks are also expected to build but not as much as U.S. stocks. The average trade estimate for new-crop world ending stocks of corn is 169.48 million metric tons, up fractionally from USDA's latest estimate of 169.05 million metric tons.
The average trade estimate for new-crop world soybean stocks is 67.59 million metric tons, up slightly from USDA's latest forecast of 67.17 million metric tons.