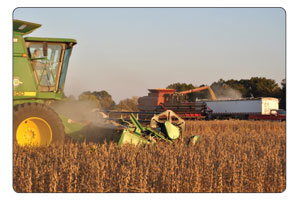 Market watchers shook their heads after USDA released its World Agricultural Supply and Demand Estimates report Sept. 11. The record forecast calls for 3.91 billion bushels of soybeans this year and 14.395 billion bushels of corn.

"The bean picture took a turn for the worse today," explains Daniel Huber of the Huber Report. "You've got record yields in corn, record yields in beans, and you've got record acreage in soybeans."
As Huber looks forward, with South American farmers expected to start planting their significant soybean crops in the near future, he sounded even less optimistic that bean prices could rally anytime soon. "About the only salvation for the bean market is a weather event in South America," he says.

Corn promises a similarly strong harvest, with USDA bumping yields from 167.4 in August to 171.7 bu. per acre, a figure closer to the market's forecast than expected.
There are some questions about the level of demand ahead. With the economies of Europe and China slowing down, Huber wonders whether export demand will be as high as the government anticipates. 

The numbers suggest farmers need to brace themselves for some tough prices in corn and beans.
Analysts are "bearish on grain prices in the short term as expectations for both production and carryover volumes domestically and globally remain elevated, leaving little room for price relief," says Marc Schober of Farmland Forecast.