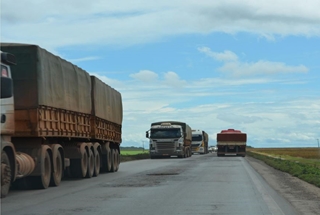 A bearish week continued in the grain and soy complex Wednesday, with prices slipping for corn, wheat and soybeans.
Soybean futures dropped 5 to 7 cents across contracts, with May contracts at $10.106 in the afternoon despite a growing transportation problem in Brazil.
"Soybean futures were pressured by hopes that the Brazilian trucker strike will end soon, although most highways across the country remain blocked," explained Brian Grete of Pro Farmer. "The Brazilian government met today with truckers about fuel taxes and tolls that have the truckers upset."
Listen to Grete's full comments:
Currency issues continue to plague wheat prices, despite Egypt's recent tender for the U.S. grain. Prices fell 6 to 8 cents, landing at $4.972 for May contracts.
"Wheat futures slumped amidst ongoing concerns with the competitiveness of U.S. wheat on the global market," Grete said.
Want to talk markets with fellow farmers? Visit the AgWeb discussion boards.