Attend a succession planning conference Jan. 14-15 in Chicago
Did you know 90% of families fail to keep their farm together for three or more generations? It's a staggering figure and might even seem like unbeatable odds. But you don't have to be a statistic. Good planning, open communication and solid preparation can put you in that coveted 10% who successfully transition generation after generation.
Family businesses often struggle with the difference between succession planning and estate planning, says Dick Wittman, succession planning and financial management consultant in Culdesac, Idaho. Succession planning deals with business viability and future leadership, while estate planning addresses financial and tax issues within the business.
Both are critical in the planning process to pass on the family farm to the next generation but too often families put the cart before the horse.
One of the biggest mistakes Wittman says he has witnessed in four decades of advising family businesses is the tendency to start with estate planning with the best of intentions to work on succession planning later. While you can work on both simultaneously, key succession planning questions need to be answered before estate planning can truly begin.
Learn the difference between succession planning and estate planning and create a family dialogue to answer those critical questions at the Farm Journal Legacy Conference on Jan. 14-15, 2019, in Chicago.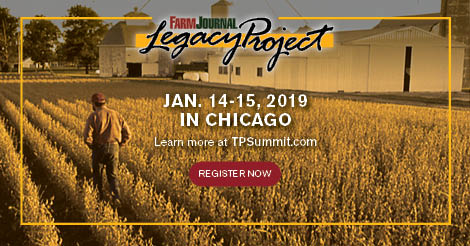 Event Details:
Legacy Conference
Jan. 14-15, 2019
Hilton Chicago Hotel Downtown
720 South Michigan Avenue 
Chicago, IL 60605
Early-Bird Pricing: $249 (Through Dec. 14)
Regular Pricing: $349 (Starting Dec. 15)
Speakers:
Dick Wittman, Wittman Consulting
Polly Dobbs, Dobbs Legal Group
Paul Neiffer, CliftonLarsonAllen
Rena Striegel, Transition Point Business Advisors
The Legacy Conference is part of the Top Producer Summit, which also includes Top Producer Seminar, Tomorrow's Top Producer and Executive Women in Agriculture. Maximize your time and money by attending multiple events to receive discounts on registration fees.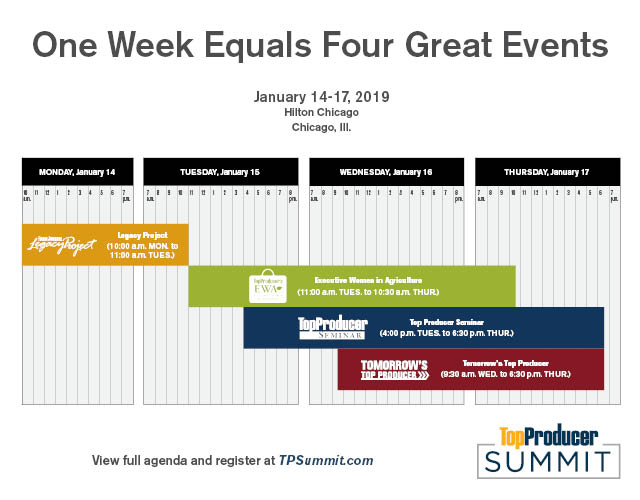 Thanks to our Legacy Conference Sponsors!
CliftonLarsonAllen
Lincoln Financial Advisors
Transition Point Business Advisors