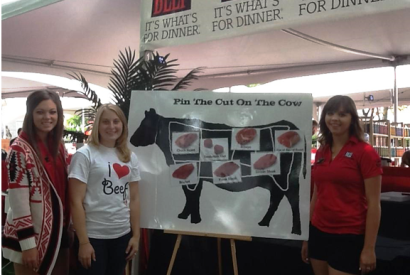 Beef topics sizzled on the Boardwalk at the Atlantic City Food and Wine Festival in Atlantic City July 25-27, thanks to a national checkoff partnership with the South Dakota Beef Industry Council and Roseda Farm.
As part of its Northeast Beef Promotion Initiative (NEBPI), the checkoff distributed beef materials, interacted with festival-goers, and cooked more than 400 pounds of Roseda Farm beef sirloin samples at its booth in the Grand Market before the inaugural Burger Beach Bash, featuring Martha Stewart.
Winners of the checkoff's "I Love Beef" trivia challenge had the opportunity to meet Stewart, and checkoff mascot, Miss Patty Melt, made an appearance at the Bash with National Beef Ambassadors Emma Morris and Justana Von Tate and Pennsylvania Beef Ambassador Elizabeth Palmer.
"The Atlantic City Food and Wine Festival was a big success when it came to interacting with the consumers," Palmer said. "Our stand was, by far, one of the most popular ones there. Everyone loved the beef that Roseda provided and often stopped back for seconds.... There were also a lot of people interested in the recipes and beef cut charts we handed out and enjoyed the 'Pin the Cuts on the Cow' game for cool beef prizes."
Back in the tent at the Grand Market, beef ambassadors played educational games to teach the largely millennial crowd about various lean cuts of beef, to provide beef recipes, and to hand out more than 7,500 samples of Roseda sirloin.
"We had an amazing time talking to the thousands of guests who stopped by our tent at the festival this weekend, said Mike Brannon of Roseda Farm. "It was great hearing such wonderful feedback about our meat.... With a versatile meat like beef, it's amazing what a simple rub of sea salt, finely ground dark roast coffee and Montreal steak seasoning can create!"
For additional details and photos from the event, follow NEBPI @NortheastBeef and visit Facebook/NortheastLovesBeef for more information about the program. For more information about your beef checkoff investment, visit www.MyBeefCheckoff.com.

Source: Beef Checkoff