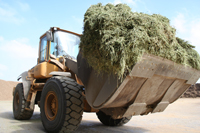 A good supplier will relay market trends to you in a timely fashion and help you manage feed costs, says Virginia Tech's Bob James.
You're not alone if you're reluctant to buy corn, cottonseed or other dairy feed at today's high prices. Nobody wants to pay $265/ton for corn when there's a chance the market might dip to $235.
Sooner or later, however, you've got to make your decision. Consider these tips for making wise feed purchases:
Become informed. "Have a passing knowledge of the underlying fundamentals to form a realistic perspective of the markets," says Joel Karlin, market analyst for Western Milling Quality Feeds in California.

One way is to subscribe to information services that provide timely, brief reports on market trends, says Bob James, dairy scientist with Virginia Cooperative Extension at Virginia Tech. "This information will also help you negotiate in an informed manner with your feed supplier," James says. Most milk marketing cooperatives also provide such information to their members.  

Identify the big-picture trends, says David Byers, a Virginia-based consultant who offers technical market advice to dairy clients. "Corn and soybean meal are in a mega bull market trend that will propel prices higher for years," Byers notes. "This is a major trend, the big picture to keep in mind.

"The trend is your friend," he adds. "Over the last two years, the market has been going up. When it sells off, buy on the declines."

Be aware that many markets have defined seasonality patterns. Commodity prices traditionally trade at high and low points, Karlin says. September and October, for example, are often the best time to buy Midwest-produced corn and soybean meal, because supplies of the just-harvested crops are generally at their largest and prices among their most competitive.
 

Buy fractionally to reduce your price risk. "Beware thinking you've got the market figured out," Byers says. "You're not smarter than the market."  He recommends buying or contracting feed in increments of 25% of your needs.
 

Develop relationships with several feed suppliers. Their long-term goal is for your continued profit -- and theirs, says James. "A little competition is good for everyone," he says. "However, loyalty to good service and reasonable pricing will encourage the supplier to stick with you when times are tough economically. A good supplier will relay market trends to you in a timely fashion and help you manage feed costs. Don't switch suppliers at the slightest burp in feed prices."
 

Look at the price spread between the spot and the forward markets. Future prices tend to be higher because they reflect carrying charges. But market uncertainty can create an inverted market, where a commodity like corn may be priced $20/ton cheaper on the spot market than in distant trading, Karlin says.
 

Evaluate the relevance of ingredients. James encourages producers to weigh the cost of each ingredient against the benefit it provides to the ration.
"What are the benefits of continued inclusion in the ration and the risks of economic losses if it's removed from the ration?" he asks. "What are the limitations to higher, economical production for the herd? If somatic cell count exceeds 350,000 or days in milk exceed 225 for the group, it's unlikely that some premium-priced ingredients will elicit an economical return."

Karlin agrees. Crude protein makes up 48% of soybean meal and 35% of canola, he says. "If canola is less than three-fourths the price of soy meal, canola may be a relatively good buy," he says.

Communicate with your nutritionist before locking in supplies, especially when considering forward contracts for byproducts commodities, says Buzz Burhans, president of Dairy-Tech Group, a Virginia-based dairy nutrition consulting firm. "Ask your nutritionist to evaluate whether commodities being considered are a good fit or essential for your herd's nutritional needs," he says. "Given expected prices for other ingredients, ask him or her to advise at what price a commodity will move into or out of your herd's diets."

Remember your purpose. Burhans suggests keeping in mind that the objective of forward contracting feedstuffs is to control costs by managing feed cost risk.
"It is better to have locked in a workable price than to miss securing reasonable prices because one waited for an apparent market bottom," he says. "Afterward, don't anguish over missing lower market prices; it is not possible to beat the market all the time. Remember, the goal is risk management, and reasonable price does not necessarily mean lowest."
---
Bonus content: