Cattle operation restores grasslands, finds profit
Think of the Wild West and your mind is immediately drawn to images of gunslingers, sheriffs and stampedes. Along Colorado's Front Range, one innovative ranch—managed by a couple who had animal husbandry and land management experience but little experience in the business side of beef—embraces the region's natural wildness as a model for success.

For Justin and Sheryl Walker, managers of Sedalia-based Pine Cliff Ranch, neglected rangelands afford opportunities for thoughtful planning and risk-taking.   

"We're trying to insulate ourselves against fluctuating cattle prices," explains Justin, whose operation raises grass-fed meat. "The only way for us to do that is to take control of the pricing with direct marketing."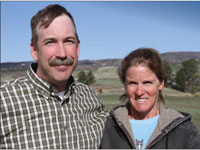 Justin and Sheryl Walker of Pine Cliff Ranch market beef to consumers on-site and at Whole Foods Market. 
Pine Cliff Ranch markets its grass-finished beef by word of mouth and a website, www.pinecliffranch.org. Starting this year, they are finishing their entire steer crop and will sell any surplus beef animals to Lasater Grasslands Beef, a ranch supplying Whole Foods Market stores along the Front Range and in New Mexico. Meat for direct marketing is processed 15 miles away in Elizabeth, Colo. It is sold direct-to-consumer in quarters, halves and wholes. Hamburger is sold from the ranch. 

The ranch is within eyesight of numerous suburban communities, making it ideal for direct marketing. After processing, ground beef is taken to Ranch Foods Direct, which creates appealing food packaging.

"The smart managers are those folks who are putting money away now, their extra profits, and then in that downturn, they're still going to be doing well," notes Dan Nosal, rangeland management specialist, Natural Resources Conservation Service in Franktown, Colo.
From Cattle to Consumers. When Justin and his wife arrived at the ranch six years ago, it was struggling ecologically and economically. The ranch owners, a private Denver family, have always encouraged innovative and best practices to insure profitability and sustained growth for the ranch. Previous managers, though, had focused on traditional methods and enterprises, and the owners' vision was not being fully realized. The owners very much wanted a healthy ranch ecosystem and an operation that could at least pay its own expenses.

Frustrated with the results from conventional management, the owners insisted that a cattle business was not the answer. Yet the Walkers successfully pushed to use livestock combined with innovative management to restore native grasses and increase the ranch's profitability. 

"We haven't been able to keep up with demand," Sheryl says. Profits have increased at least 300% during their tenure. The Walkers don't use hormones, antibiotics, wormers or insecticides. Not including opportunity rent, costs are $65 per breeding animal annually. They expect to increase the number of mother cows to 150 with sufficient rain and hope to add delivery points. 

Critical to Pine Cliff Ranch's financial success is education. "We try to go every year to at least one seminar or professional development course," Justin explains. "We've been able to do some things differently because we're not tied to tradition and have very open minds." 

Although not a traditional ranch, it is built on factors top producers value most—a growth strategy, good stewardship and positive relationships with stakeholders.
---
To learn more about Pine Cliff Ranch and view photos, visit http://www.topproducer-online.com.