Players offer more choices from fewer brands
Competition is alive and well in the seed industry, with each player vying for a spot in the farmer's planter.

The past few years have brought major shifts in market share as consolidation continues and new technologies hit the marketplace, says Kent Schulze, an associate with Cornland Consulting of Minneapolis, Minn.

"The big companies acquired many of the local and regional companies and also came out with better, innovative products," he says.

Seed sales for Dow AgroSciences, Monsanto, DuPont and Syngenta—the major players in the U.S. corn and soybean seed industry—reached almost $13 billion in 2011. "Sales for the top four companies will continue to climb this year with a big jump in corn acres, more traits and larger market shares," Schulze adds.

Combined, the big four own 80% of the U.S. corn business and 70% of the U.S. soybean business. Just 10 years ago, corn market share was 72% and soybean market share was 50%.

AgReliant, a joint venture between European KWS and Limagrain comprising five regional companies and brands, maintains 7% of the U.S. corn business and 3% of the soybean business. Farm supply brands, independent companies and regional brands round out the remainder of market share.

In the canola, cotton and rice seed sectors, Bayer CropScience is a big participant and will soon ramp up in wheat and soybeans, Schulze adds.

"All of the giant crop protection–based seed companies have a deep trait pipeline," he says. "They are working 15 years out with more than 100 biotech collaborators, which have the newest technologies."

Because of the research and investment commitments it takes to develop new traits, Schulze says, only the biggest companies have the resources to develop and gain regulatory approval for new traited seed products. "In order to pay for all of that trait development and marketing, companies have to get their products on as many farms as possible," he says.

Regardless of the market share differences, John McDougall of Phillips McDougall, an agrochemical tracking, research and consulting firm near Edinburgh, Scotland, believes the smaller independent companies will continue to be viable. "A smaller company offers a good seed and technology base for one state or sometimes several states, and they also have better local knowledge," he says.

Thanks to licensing agreements with the bigger companies, the independent players have access to the latest technology. "That's a good revenue stream for the big companies and for the small company, it means they aren't cut off from that technology," McDougall explains.
---
Market Share Shifts with Acquisitions and Technology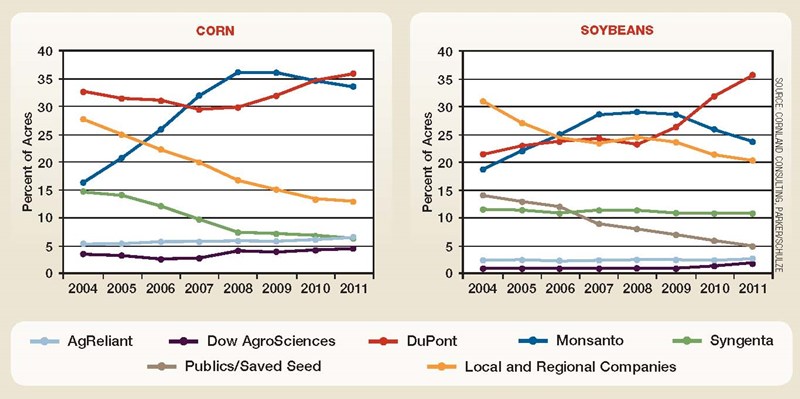 Acquisitions and new technology are the biggest drivers of market share increases, according to Kent Schulze, an associate with Cornland Consulting. Monsanto and DuPont, in particular, have acquired several independent brands in the past decade, which accounts for the dramatic decrease in market share for local and regional companies. The subtle changes in the past couple of years are primarily a result of aggressive marketing campaigns, though new technology has contributed some, says John McDougall of Phillips McDougall a agrochemical tracking and research firm.
---

Streamlined brands. To build market share, major seed companies strategically acquire brands, therefore absorbing their customer base. "All of the major companies have made some sort of acquisition in the past few years," McDougall says.

Once a company acquires a seed brand, it has two choices—add it to its product portfolio or eliminate it. Schulze says it's interesting to track how many seed brands have been dropped during the past 15 years. The major crop protection/seed companies have eliminated 20 of their 54 acquired corn and soybean brands while creating 10 new seed brands. During the same time period, 57 other regional and local company brands were eliminated through consolidation.

Monsanto bought eight corn and soybean companies in 2006—Kruger, Diener, Heritage, Sieben, Trisler, Campbell, Cornbelt and Gold Country. Today, only Kruger and Gold Country remain as active brands.

Of course, Schulze says, every brand that a company sells has an attached cost. In the years ahead, he believes the major seed companies will pour more of their resources into their
banner brands rather than support the smaller ones. "I think all of the multiple seed branding could be temporary," he predicts. "Technology branding is another frontier."
Advancing technology. Through collaborations and technology licensing, trait pipelines have exploded in recent years, offering multiple yield, seed and refuge benefits.

"The market is moving quite fast from the first-generation products to the second- and third-generation products," McDougall says. "You've got all this technology available to the grower and it's incredibly complex."

Even with all of the sophisticated science involved in crop production, farmers have been more than capable in adjusting. "The ultimate goal of the industry is to make farming much easier for the grower," McDougall says. That can come in the form of refuge-in-a-bag, stacked traits, seed treatments or precision farming.

Of course, having hybrids that can withstand adverse weather conditions, fight against pest infestations and produce higher yields has upped the cost to farmers. Will they continue to pay for the seed enhancements?

"There is always an upper limit," he adds. "Because the value capture is such a benefit for the grower, I don't think we've hit that limit yet."