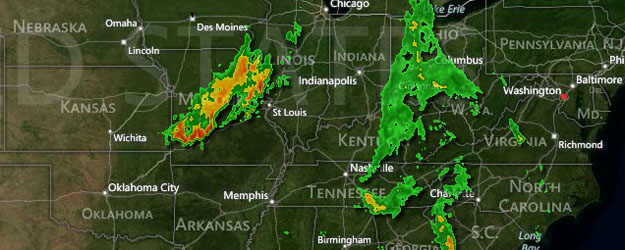 The week for many Corn Belt farmers is starting out on a wet note. Desperately needed rains are forecasted for eastern and western parts of the region, according to
USDA's Joint Ag Weather Facility.
A plume of moisture over the
eastern U.S. will merge with a cold front currently crossing the western Corn Belt. Rain will end by Wednesday in the Northeast but will linger for several days in the Southeast. Additional rainfall totals associated with merging weather systems could reach 1 to 2 inches, with locally higher amounts, across the South and East.
Most of the
Midwest will receive less than an inch of additional rainfall. Late in the week, however, showers and thunderstorms will return to parts of the northern and central Plains and the upper Midwest.
In contrast, dry weather will prevail through week's end in the
West, except along the Canadian border.
The NWS 6- to 10-day outlook for June 16-20 calls for near- to below-normal temperatures across the
lower Southeast and the western half of the U.S., while hotter-than-normal weather will prevail from the eastern Plains into the Mississippi Valley, Midwest, and Northeast. Meanwhile, above-normal rainfall in the southern Atlantic States, the upper Midwest, and northern portions of the Rockies and Plains will contrast with drier-than-normal conditions in a broad area stretching from the southern Plains into the southern and eastern Corn Belt and the Northeast.
Here's a breakdown of weather forecasts, by region:
In the West, warm weather is returning to the

Pacific Coast States, but cool conditions linger farther inland. Freeze warnings are in effect early today in parts of northern Nevada and western Colorado.
On the Plains, unfavorably hot weather continues in much of

western and central Texas, where Sunday's high temperatures generally ranged from 100 to 110°F. Elsewhere, cool air continues to overspread the northern and central Plains, while a few rain showers linger across Montana.
In the Corn Belt, highly beneficial showers are affecting both eastern and western portions of the region. However, pockets of developing drought still exist, especially from Nebraska to Ohio, and more rain will soon be needed to maintain current crop conditions.
In the South, weekend rainfall provided drought relief, mainly

east of the Mississippi River. Some of the heaviest rain fell in the eastern Gulf Coast region, including northern Florida and southern portions of Alabama and Mississippi. Currently, scattered showers continue across the Southeast.
For More Information
View your farm's forecasts with AgWeb's Pinpoint Weather.
---