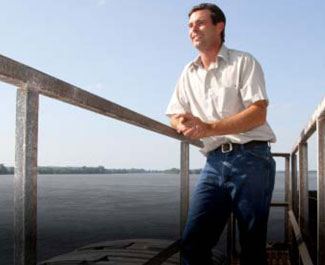 Farming the Mississippi River bottom yields boom times and busts
The view in tiny Meyer, Ill., resembled a scene from the movie "The Wizard of Oz." The difference: Its roads and sidewalks were paved with yellow corn instead of bricks. It was 2008, and the Mississippi River had breached levees. Water rushed against the local elevator's 700,000-bu. bin, busting its concrete foundation and spilling millions of dollars of crop.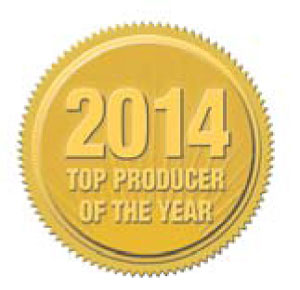 It's a memory 36-year-old Joe Zumwalt, who has spent his life farming the river-bottom ground, finds hard to shake. That year, he and his family lost 3,500 acres to the mighty river. So when history repeated itself this summer, Zumwalt remained stoic. As the rain-swollen river carried on its assault in July, he quietly watched the water swamp 200 of his 3,500 river-bottom acres of corn and soybeans. 

"I think what's happened this year is proof the levees work," Zumwalt says. "If you stand on the top of the levee and look at the amount of water being held back and the devastation that could have occurred, you have to feel pretty good."

Zumwalt is a positive person by nature. A person who has grown up with the Mississippi flowing behind his back is either optimistic or neurotic; he chooses optimism even in light of reports from USDA—Farm Service Agency (FSA) that the river and its tributaries destroyed at least 400,000 acres of Illinois crops this year. The flood came at a bad time as Midwest corn grew gangbusters and soybean plants matured. To Zumwalt, though, the endurance of the levees near his fields in Warsaw, Ill., matters most.

"I watched Joe handle tense situations during the flood with a smile on his face," says Gerald Jenkins, general manager, Ursa Farmers Cooperative. Jenkins has worked with Zumwalt for years, including during his term as president of the local co-op. "He has made tough decisions in supporting the farmer–members, as well as showed outstanding strength in decision-making on behalf of the company itself."

Strength of character, a positive attitude and wise decisions in the face of adversity are just some of the reasons Zumwalt was selected as a finalist for the 2014 Top Producer of the Year Award. He began farming in 1999, when one of his family's tenants announced plans to retire. He started with 860 acres, primarily in the fertile floodplains. As a local boy, Zumwalt easily developed cash-rent relationships with older landlords and brought more acres into his corn, soybean and wheat rotation that made up his family's 5,000-acre land and farming corporation. 

Today, Zumwalt farms a mix of owned acres, cash-rent land and crop-share acres from ownership within his family's operation, Hancock Land Company.

"My original goals were not to raise 250-bu. corn or to invent a new tillage practice," Zumwalt notes. "I farm because I love the idea of production. I love the land. I want to be a quality asset in the industry."
Financial Groundwork. He started out with limited debt. The 2000s marked a time of government support. Loan deficiency payments timed with limited market variability helped him maintain income. He used savings built up in high school and a small inheritance from grandparents to purchase used equipment. 

For several winters, he painted equipment in exchange for harvest value. His mother financed equipment debt at a competitive rate, and he repaid it over a five-year period.

Despite suffering a financial loss with the 2008 flood, Zumwalt built a solid lending relationship with his bank, The Hill-Dodge Banking Company in Warsaw.
Devastation By The River

Zumwalt had farmed for only eight crop years when the Mississippi River flooded in 2008. That year, he faced complete crop failure. In his community, a levee failed and flooded 32,000 acres.
"I have witnessed a steady growth in the operation with additional acres, improved equipment and use of new technology," says Gary Uhland, bank president. "All expansion and capital improvements to the operation are thoroughly considered before money is invested."   

In 2004, Zumwalt dedicated himself to achieving the goal of operating without debt. By 2008, in spite of complete crop failure from the flood that year, he ran his business with only a meager operating loan. Since then, Zumwalt has purchased larger equipment to support growth. He purchased a new combine in 2013, and he will offset the debt with custom harvesting.  

"From a banker's perspective, he is progressing on a well-defined plan," Uhland says. "He truly recognizes the difference between the needs and wants of his operation. I have yet to see Joe act upon his want list. This is important to his banker, as well as his long-term success."

Today, Zumwalt builds his net worth at a rate of 10% per year, much of it through careful investments in equipment that improve his operation and provide additional returns. "I no longer have to survive crop sale to crop sale," he says. 
Technology Is Your Friend. Wide-scale use of yield monitors, soil tests, variable-rate fertilizer application and auto-steer has helped Zumwalt innovate during tough times. He uses auto-steer on three of his four tractors and on his combine. The initial investment has paid off through fewer skips and overlaps at planting and added operational windows when the sun goes down, especially with fertilizer applications.

Although yield maps dating to 1988 are available for his acres, he has supplemented them with digitized data collection in recent years as well as digital soil type maps to create calculations for every acre. 

"Over the past 10 years, I have seen an equalization of soil tests and yields across fields," he says. "I'm almost to a point that a standard rate of fertilizer can be applied." Inputs are placed where they are needed most, and at the end of the year, the use of evolving technology pays dividends. "Point rows cost money, unproductive tree lines cost money, overlaps and skips cost money, and a lack of bushels to sell costs money," Zumwalt says. "As I keep this in mind, I am reminded how valuable technology really is."

For example, he purchased a single light bar and discovered, in the first year, that the ability to work later into the evening cut several days off his fertilizer-application window. Those results justified the purchase of additional light bars.

After the Mississippi destroyed grain storage and machinery buildings on Zumwalt's farm in 1993 and 2008, rebuilding within the floodplain was not an option. 

"My operation needed a center, a place to grow, build and repair equipment," Zumwalt says. "But we also needed a central place to meet for area producers." 

He constructed a state-of-the art 72'x216' shop covering 15,500 sq. ft. The facility features living quarters, office floors made of hewn wood and space for tools. He financed one-third of the shop; paid for another one-third in the crop year in which it was completed; and funded the final one-third with savings he built up over six years.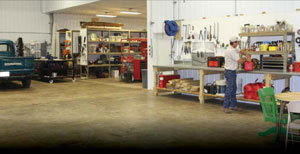 A prize shop, built after floods damaged Zumwalt's former machine buildings, has become a central meeting place for farmers and legislators. The state-of-the-art 72'x216' shop covers 15,500 sq. ft. and features living quarters and plenty of space for tools. shoop covering 
"His investment in the shop shows the pride that Joe takes in maintaining and caring for his line of equipment," Uhland notes. "As a lender, I consider the care of equipment, or lack thereof, to be one of the areas that will eventually separate the successful from those less successful."  

Zumwalt prides himself in opening his shop doors to legislators interested in visiting the heart of production agriculture. "Nothing speaks louder than when a congressman visits your facility and he can hear the hum of working machinery in the background," Zumwalt says.
Fighting the Good Fight. He will use the shop as meeting space while working with Illinois leaders to advocate for the streamlining of interstate flood prevention efforts. Although local farmers want the U.S. Army Corps of Engineers to spearhead flood-fighting efforts, individual states currently dictate increases in river levels caused by levee repairs. Yet conflicting state standards can increase damage on one side of a swollen river, Zumwalt explains. Illinois has the most restrictive river-level rate among states bordering the Mississippi, making it more susceptible to flooding.

Repairs are still needed in some areas from 2008 flooding, in part because of questions about which agencies have the money and who will do the work. 

Zumwalt lobbies for funding to build state-of-the-art navigational locks to reduce shipping delays that increase the price of grain.

With his easy demeanor and experience on the river, Zumwalt has as much chance as anyone to change policy. "I'm not planning to go anywhere, so I'll keep fighting the good fight to help farmers in the river bottom stay above water," he adds. 
---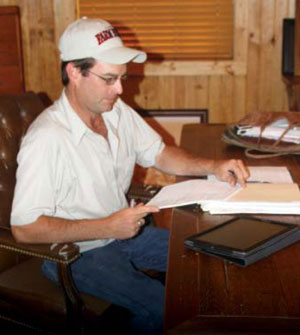 Joe Zumwalts says his obligation is to give back to the community.
Zumwalt Farms At a Glance 
Business Structure: Joe Zumwalt, 36, and his family farm 4,500 acres of corn, soybeans and wheat near Warsaw, Ill. He is a partner in his family's business, Hancock Land Company. More than 80% of the acres he farms are family-owned. 
Leadership: Zumwalt hosts on-farm meetings with state and national legislators on timely issues related to farming and water. One key meeting included 80 state government officials and local producers affected by drainage issues. "Those in attendance sunk their feet in the levee and saw firsthand the impacts of farming on a local economy," Zumwalt notes. "That makes a difference in later discussions."
Community Service: Zumwalt lives by the saying, "to much is given, much is expected." He has served on the Hancock County Farm Bureau Board for 15 years and State of Illinois Young Leader Committee. He is in his 10th year on the Ursa Farmers Cooperative Board. He has served on boards at Trinity United Methodist Church, the Hancock County Economic Development Committee and Greater Keokuk Area Foundation Committee.
 
Find a Mentor: "Let's face it, in modern agriculture, everyone needs guidance," Zumwalt says. He has worked not only with family members but also with older producers in the area. Early on, Zumwalt offered to truck grain for experienced farmers just to be part of their operations and learn from them. One of his key mentors is a board member of the local co-op.