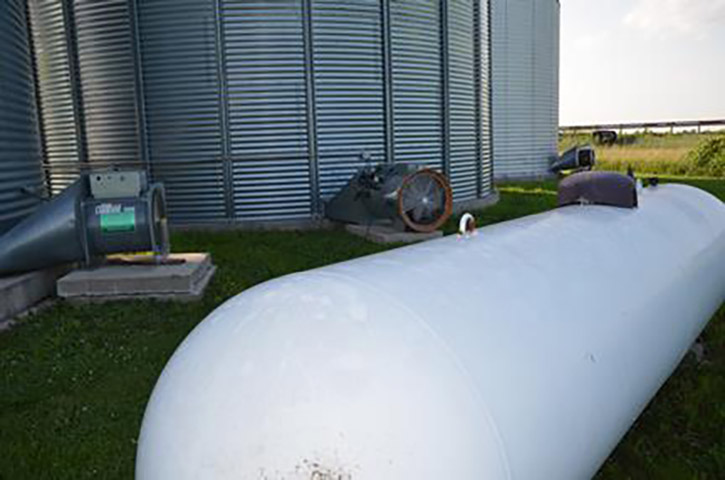 Propane prices could exceed last year's high due to continued strong exports and a record-large corn crop that could create a need for increased on-farm drying. Instead of being a victim of high prices, however, producers can take several measures to protect themselves and ensure they have adequate propane supplies on hand to meet their fall and winter needs.
The big differences between this year and last, says Davis Michaelsen, Pro Farmer Inputs Monitor, is that supplies of propane are more abundant and more producers have booked their needs for fall and winter. That's good because grain elevators are nearing capacity, which will put much of the drying responsibility on corn producers this year.
"For several years prior to last year, propane prices were stable," says Michaelsen. And that meant producers didn't really need to think ahead. Last year's spike in prices, caused primarily by a shortage of trucks and rail cars to move the product, changed the way producers look at their propane needs.
"Eighty percent of farmers this year compared with 20 percent last year have front booked their upcoming fall and winter supply needs," Michaelsen says.
Matt Kumm, propane marketing manager for CHS, the nation's largest farmer-owned cooperative and the fifth largest retailer of propane, says that since last year's price spike, propane prices have fallen to near historical levels.
"Inventories have nearly reached five-year average levels, so we are sitting pretty good compared to where we were last winter," says Kumm. "U.S. propane production has been increasing for the past five years, and it is expected to continue increasing over the next seven years."
The average propane price for the 12 states monitored by Pro Farmer for the week ending August 15 was $1.56/gal, compared with $1.40/gal for the comparable week last year. Pro Farmer Inputs Monitor surveys 1,300 different locations weekly for propane. Over the past four weeks, the Pro Farmer price has dropped about 5 cents, and Michaelsen thinks propane is at its seasonal low.
"If you are not booked by September 1, you may miss the boat," he adds.
Distribution could continue to be a problem this year as once dedicated propane pipelines continue to move other products. Kumm says the best way for producers to ensure they have enough propane on hand this winter and fall is to evaluate on-farm storage with their propane retailer.
"Do you have the right size storage to meet your needs? And then contract for the demand season so you avoid any spike in price that may occur," Kumm says.
Neither Michaelsen nor Kumm is ruling out a price spike like the one that occurred last year, particularly if this winter's temperatures are similar to or lower than 2013's. Last year, Pro Farmer's propane prices peaked in late January and early February at $5.10/gal in Wisconsin.