Finance experts say farmers in good position to weather financial upsets
Sure, they're concerned about a crash in commodity prices, but ag lenders and farm finance experts say a return to the farm crisis of the early 1980s is highly unlikely, even if crop prices take a modest nose dive.

At a summer meeting sponsored by the Federal Reserve Bank of Kansas City, bankers, economists and others discussed the risk agriculture faces if crop prices, and in turn land values, drop.

"Less than 1% of our loans are delinquent," said Doug Hofbauer, president and CEO of Frontier Farm Credit in Manhattan, Kan. "Our biggest competitor in making farmland loans is cash."
Lenders and producers remember the hard lessons they learned in the 1980s and can't help but wonder if a repeat is just around the corner.

"I don't think so," Hofbauer said. "Farmers have more savvy financial skills today, and both farmers and lenders today have a cushion. I am cautiously optimistic, yes, that we can weather a downturn."

He added that while volatility creates risk, it also creates opportunity: "There is more opportunity today in agriculture than ever before." Even though costs have substantially increased, the banker knows farmers can turn a profit with $4 corn.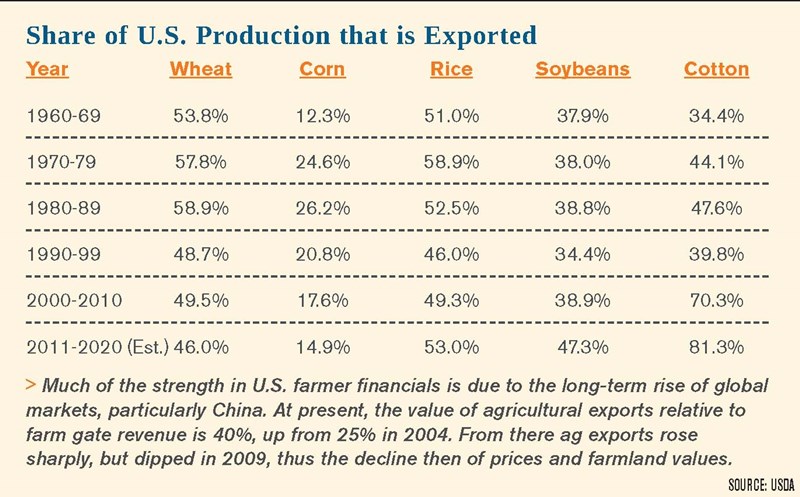 What If Prices Fall? Producers and lenders are in far better shape to weather a financial storm than they were in the late 1970s to early 1980s for the following reasons:

Crop producers have more liquidity and more cash. For some livestock producers, however, it's
a different story, but even their financial situation is improving.

Coinciding with this, farmers have paid down a lot of debt, despite machinery upgrades and other business investments.

Even with high land sales, producers have paid most of the price tag with cash and only borrowed a portion (in part due to stricter lender rules).

Producers have taken advantage of extremely low interest rates by locking in rates of next to nothing well into the future. In 1980, the prime rate topped 20% and many producers were sitting on variable rates. Today, the prime rate is 3.25%. As a result, farmers have a hedge against inflation—should it come about.

Farmers also have far more risk management tools at their disposal today. These include federal crop insurance and put and call options.
Land Rent Concerns. Despite the optimism that farmers are in better shape than ever, there are red flags.

"A producer was recently in my office and said his landlord wanted cash rents of $500 per acre for three years. He asked what he should do," said Paul Ellinger, department head, agriculture and consumer economics at the University of Illinois. "It's not an easy question to answer because there is so much competition for good farmland in Illinois and elsewhere."

If corn falls to $4 per bushel, land rents will fall, but there will be a lag before rents are lowered, and that means a squeeze on producers, he said. Because of skyrocketing rents, the breakeven costs for farmers widely vary—so much so that Ellinger and others bankers who are asked that question hesitate in responding.

The reality is that while some farmers can make money at less than $4 corn, other farmers need
far more. Joseph Glauber, chief economist for USDA, sees $4-plus corn five to 10 years out and higher than that if energy prices remain high, with farm costs so closely tied to energy. Corn stocks will be rebuilt from the current low levels as high prices stimulate production worldwide, but it will take two or three years, he predicted.

The components of farm equity made up of real estate have changed little since 2006—from 46% to just a nudge higher, even though land values rose during this period, Ellinger said.
Black Swan Around Corner? Iowa State University economist Bruce Babcock noted during the conference that despite optimism in the air, there are a number of risk factors that both bankers and producers need to think about. One is the risk of a stronger dollar, which could hurt U.S. ag exports.

If Europe runs into even bigger financial problems to the extent that some nations default on their loans, ag exports could be reduced for a period of time.

There is also a risk of losing ethanol subsidies. U.S. ethanol production would decrease 4.7% and corn prices 9.4% if the ethanol tax credit is eliminated, as applied across 500 crude oil prices and corn yields, according to an Iowa State University study. Eliminating the ethanol mandate would slash U.S. ethanol production to 10.9 billion gallons and corn prices to $5.30 per bushel, Babcock said.

"If market demand is high enough, the mandate has no impact on production, price or consumption of fuels," he explains. "But if demand is not strong enough, then there is a gap between production costs and the market value of biofuels."
---
A New Attitude on Hedging
Lenders need to be cautious about encouraging farm customers—even large and successful producers—about managing risk, said Michael Swanson, chief agricultural economist for Wells Fargo, during a meeting sponsored by the Federal Reserve Bank of Kansas City.

"We talk in platitudes: you need to manage risk. But farmers hear you say, 'you need to sell for high prices,'" Swanson said. Many farmers do not understand what hedging is and mistakenly believe that it in some way involves trying to pick the top of the market, he adds.

Farmers have always been marketers, but hedging is a completely different animal, Swanson cautions.

"It means covering both sides simultaneously and living with a limited return," he said.
For example, it means locking in fertilizer and other input costs at the same time crop prices are locked in. Hedging also means living with the seen and the unseen, income earned and risk avoided.

Swanson said that farmers need a new attitude. "Farmers hate to hedge. They might miss a home run," he said. Farmers also hate margin calls and not picking the top of the market, he added.
Knowing the pros and cons of tools that manage risk, including hedged-to-arrive contracts, futures accounts and over-the-counter trading, is a good place to start, Swanson said.

Hedged-to-Arrive Contracts. The pros of hedged-to-arrive contracts are that no margin funding is required, the cost is established up-front, the delivery point is established at the sale, and there is a local connection. The cons are that producers are locked into a single delivery point, they limit their ability to negotiate a better basis, there are "rolling" risks, it is hard to evaluate counterparty risk, and they are typically more expensive.
Futures Accounts. The benefits of futures accounts are their liquidity and transparency, that options trading is possible, there is no counterparty risk, and they are open on basis and delivery. Cons are that margining is required, they are harder to manage, they are emotional due to constant repricing, they can become speculative instead of risk-managing, and they are open on basis and delivery.
Over-the-Counter Trading. The pros of over-the-counter trading are that no margin funding is required, the cost is established up-front, there is no counterparty risk, counterparties typically are stronger financial institutions and they are open on basis and delivery. The cons are that they are open on basis and delivery and some parties may be unwilling to swap due to the Dodd-Frank Act.
Swanson said he's more optimistic on weathering a financial setback because people have their eyes open. "We learned something from the 1970s. We will not have a crisis like the 1980s. It won't get to that level," he said.