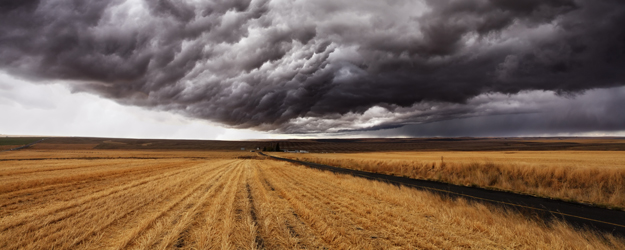 After this week's corn price plunge, traders are turning their attention quickly to weather conditions for the current crop in South America and the U.S. crop in the coming season.
"This is basically a two-day report," said Chad Hart, Iowa State University economist, Friday morning as
corn futures
traded with a few cents of unchanged.
Futures for March, May, and July
dropped their 40-cent daily limit Thursday after USDA raised its estimates of the 2011 crop, Dec. 1 stocks, and carryover stocks.
Traders have thought for months that USDA would reduce its estimates of yield and production, and probably harvested acres, said Ben Parks, risk management consultant at INTL FCStone, Kansas City.
"Even in September, October, and November, the trade thought the crop was lower and USDA was stair-stepping its estimates lower," said Parks after the market closed on report day. "This morning we expected smaller yield and production. The numbers weren't above the high end of estimates but toward the top for all of them – production, yield, quarterly stocks, and carryout."
Here are some key figures from the Jan. 12 reports that sent
corn futures
into a tailspin:
The 2011 crop reached 12.4 billion bushels, up about 78 million bushels from the average trade estimate.
Average yield for 2011 reached 147.2 bu./acre, up 5 bu. from the November forecast but still down 5.6 bu. from the 2010 average.
Dec. 1 corn stocks of 9.64 billion bushels exceeded average trade estimates by 240 million bushels.
Projected carryover of 846 million bushels was 93 million bushels more than the average trade guess.
USDA also raised its estimate for world stocks, noted Parks. "It's hard to see anything that's real price positive here," he said, but added, "Compared to history, it's still tight. It's just that we've got more than than we thought."
The market focused on supply figures, even thought USDA also increased projected exports to 1.65 billion bushels, up 50 million bushels from last month's figure. That's still down from 1.835 billion bushels last year and 1.98 billion two years ago.
"If there's room for something to increase on the demand side, I thin it's export potential," said Parks.
South American Weather Factor
That potential for increased exports depends heavily on weather developments in South America, where summer has been hot and dry in much of the corn-producing areas.
Parks recalled that a few years ago when La Nina kept those regions hot and dry, "Crop estimates were 35% smaller by the time the crop was in the bin than in January."
Hart also puts South American weather high on his list of corn market factors.
"With this report, USDA has started to reduce those supply numbers from South America on both corn and soybean side," said Hart. "In the next couple of months, that will be a big story – once we get past these reports."
Drought or Bumper Crop?
U.S. weather likewise is gaining attention as drought continues across the Southwest and dryness persists from eastern Nebraska to the north, across northwest Iowa, all of Minnesota, and parts of the Dakotas and Wisconsin.
Given prospects for increased corn acreage and risks of weather, Hart sees two much different prospects for the 2012 corn crop and corn prices.
"I think when you look at these markets right now, it's very easy to create a story where we could see corn getting down in the $4 range, even possibly $3 range, for futures," he said.
"At the same time, I can tell a good story about how corn prices on the futures market could easily go back into the $7s and $8s again."
He says the weather outlook from Iowa State climatologist Elwynn Taylor explains the prospects. Taylor has been predicting a 40 percent chance that La Nina will continue at least through May. If that develops, average corn yields could fall below 148 bu.
However, Taylor also sees a 60 percent chance that La Nina will dissipate quickly, which historically would bring a fast change to El Nino. That would mean favorable rain in the growing season and above-trend yields, at $168 bu. or more.
"I split the difference," said Hart. "The markets are in this middle ground too."
Market Offers Favorable Price Floor
Hart said he is not changing quarterly Iowa corn planning prices he developed in early December. Those prices, geared for use in financial planning rather than trading, run from $5.80/bu. in the first quarter of 2012 to $5.85 in the second quarter, $5.70 in the third quarter, and $5.25 in the fourth quarter.
"The beauty of it is, while we see this extreme volatility, at least it happens at a time now when we have good prices on the board, higher than our production costs," said Hart. "We have the ability to put in price floors, in case those $4s are coming at us."
Even after the 40-cent drop in futures, said Hart, and accounting for basis, cash prices in Iowa still beat production cost by about 80 cents per bushel.
He recommends that growers take a good look at ways to lock in floor prices. Given the potential to approach $8, he suggests put options to provide a floor with room to gain on the upside. And to help protect against risks, he recommends crop insurance tied to marketing plans.
....................
Complete Coverage of Jan. 12 Reports
See the data, read the biggest news and listen to analysis of today's Crop Production and WASDE reports.
---