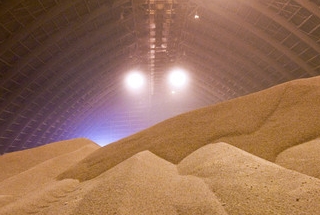 BHP Billiton Ltd., the world's biggest mining company, is reducing spending on a potash mine in the Canadian prairies by about one-third amid the decline in global commodity prices.
The Australian company is allocating less than $200 million in capital expenditure in the current financial year to develop and study the feasibility of the Jansen project, down from $330 million in the previous 12 months, said Giles Hellyer, president of BHP's Canadian unit.
"We're doing more with less," Hellyer said in a March 4 telephone interview from Saskatoon, Saskatchewan. "The intent is to be a lot more effective and efficient in what we're doing and complete the work over a slightly longer time horizon."
BHP has so far approve$3.75 billion to a feasibility study and initial construction work on the project, which has yet to get a final go-ahead from the company. Construction crews at the site are excavating and lining two mine shafts, which may be complete in the next two to three years. Commercial production won't start before 2020.
Potash prices have tumbled amid increased production. Farmers are spending less on fertilizer amid bumper crops and lower agricultural commodity prices. Rival producer Potash Corp of Saskatchewan Inc. idled one of its mines in January in response to the oversupply.
Adding Workers
The situation at Jansen is far from unique. The world's biggest mining companies are reining in spending as a rout in commodity prices squeezes profits and forces the closure of older and higher-cost operations. BHP faces the additional challenge of a potential multi-billion-dollar liability arising from the Samarco dam disaster in Brazil, which killed at least 17 people.
The company has narrowed its focus under Chief Executive Officer Andrew Mackenzie to four so-called pillars, or key commodities -- iron ore, oil and gas, coal and copper -- with potash seen as a future fifth pillar. Melbourne-based BHP said last month that Jansen is 54 percent complete and management has highlighted the project as a key contributor by the middle of next decade.
BHP remains confident about the long-term demand outlook for potash, seeing growth of about 3 percent a year, Hellyer said. And while BHP reduced the number of workers at Jansen in 2015, it will probably add employees in the next 12 to 18 months, he said.
Break-Even Price
Jansen's development requires a long-term potash price of more than $400 a metric ton to achieve an acceptable rate of return and probably more than $500 a ton to compete for capital against BHP's other growth options, Macquarie Group Ltd. analysts wrote in a Feb. 17 note to clients. BHP declined to comment on commodity prices.
Potash prices in the Gulf of Mexico have fallen 44 percent over the past year to $200 a ton, according to data from Green Markets.
"At the moment we're focused very much on developing a robust case for Jansen," Hellyer said. "We continue to believe in those long-term fundamentals in potash and the long-term story around the requirements for new capacity beyond 2020."