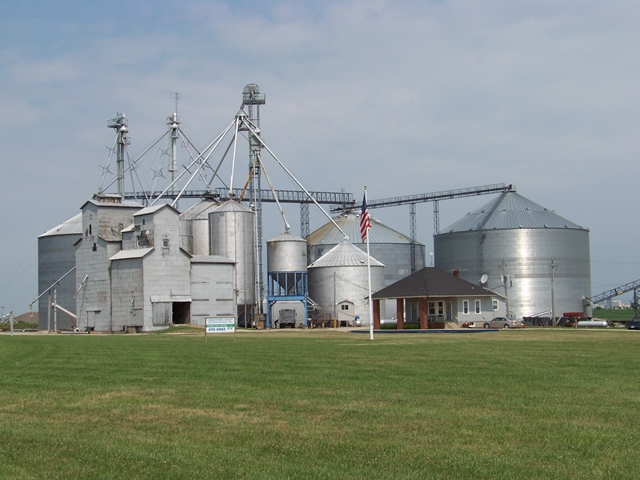 Old-crop stocks of corn, soybeans, and wheat are substantially larger than a year ago, which will add significantly to new-crop supplies, according to USDA's quarterly Grain Stocks report released Wednesday.
"Ths report is friendly to the wheat market, but it's hard to say it is bullish," said Randy Martinson, commodity broker and manager of Progressive Ag Marketing, in Fargo, N.D. Martinson was the commentator on an MGEX post-report press conference. "The report is negative to corn and slightly negative to soybeans as well."
Old-crop corn stocks as of September 1 were 1.73 billion bushels, up 41% from the same quarter last year, which was close to the pre-report trade estimate of 1.74 billion bushels. Of total corn stocks, 593 million bushels were stored on farms, up 28% from a year earlier, and 1.14 billion bushels were stored off-farm, up 48% from a year ago.
"We knew stocks would be building. The key number to me is that there is more building in off-farm stocks than on-farm," said Chad Hart, agricultural economist at Iowa State University. "Farmers are clearing out stocks to make way for harvest."
The June through August indicated disappearance of 2.72 billion bushels was up from the year-ago comparable quarter of 2.62 billion bushels, according to USDA calculations.
"That's really strong disappearance—100 million bushels more than last year—but we could still have downward price pressure," said Hart. "Stocks have built and we still have harvest supplies coming in."
Old-crop soybean stocks as of September 1 of 191 million bushels were 108% larger than a year ago, but 14 million bushels lower than pre-report trade expectations. Soybean stocks stored on farms are 49.7 million bushels, up 133% from a year ago. Off-farm stocks of 142 million bushels are 101% larger than last September.
Indicated disappearance for soybeans for the June through August period is 436 million bushels, or 39% more than the same period a year ago.
"Corn and soybean prices are destined to see a little more pressure," said Martinson, due to the continued quick pace of harvest and higher-than-anticipated yields in some areas.
All-wheat stocks as of September 1 of 2.09 billion bushels are 10% larger than a year ago. USDA's estimate for on-farm wheat stocks of 647 million bushels are down 9% from last September. Off-farm stocks of 1.44 billion bushels, however, are 21% larger than a year ago.
The June through August indicated disappearance for wheat of 716 million bushels is 1% larger than the same period a year earlier.
Martinson expected wheat prices to stabilize then start to recover, providing wheat producers an opportunity to market their remaining stocks, probably sometime in the next six weeks.
"The world is awash in wheat," said Martinson. "But next year there could be some problems in Australia and Ukraine due to dryness, and if the world economy struggles, people could turn to wheat as a cheaper protein source."
What is the storage situation on your farm? Are you unloading grain at lower prices than you'd like to make room for new crop? Let us know in the comments.