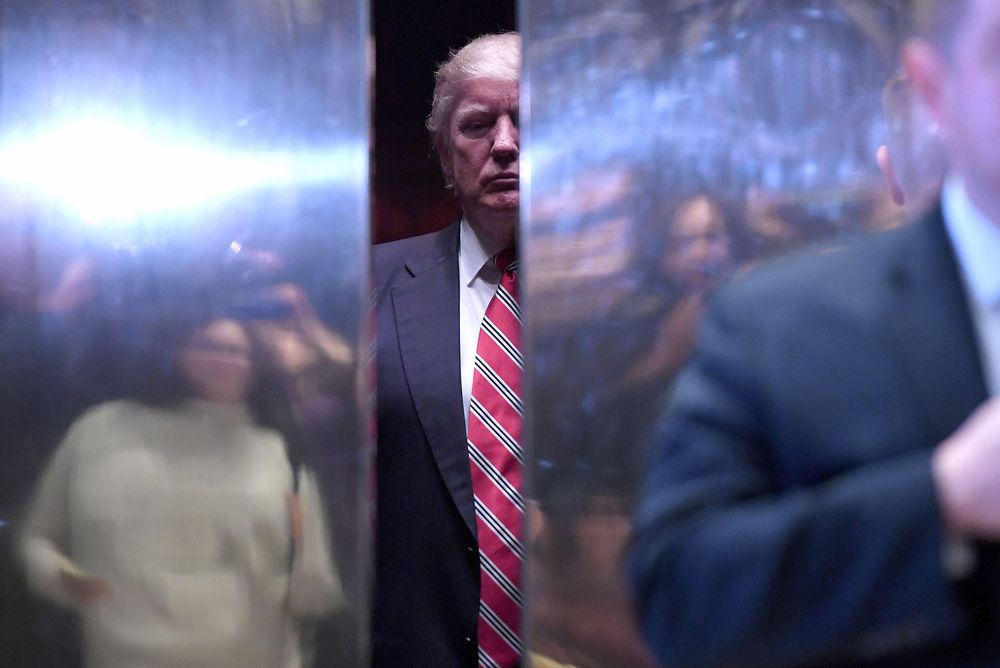 Since Donald Trump's election, state officials, emergency managers and even some Republicans in Congress said they hoped the president's skepticism about climate change wouldn't cause him to toss programs meant to protect Americans against its consequences -- stronger storms, longer droughts, rising sea levels and more intense heat waves.
That seems to have been too optimistic.
Trump will sign an executive order Tuesday that will in part reverse two main planks of federal efforts under President Barack Obama to adapt to climate change, a senior White House official told reporters. Trump will rescind Obama's order to federal agencies to plan for climate change and another to have the military prepare for the national security implications.
"We should be doing as much as we can now to prepare and protect citizens against future risks," said Laura Lightbody, director of the Pew Charitable Trusts' program for reducing the impact of storms and floods. "Without leadership from the federal government, the nation's preparedness efforts are undermined."
Under the Obama administration, dealing with climate change was grouped into two main baskets: cutting the greenhouse gases that cause Earth's warming and planning for the impacts from that warming. Last year, the U.S. suffered 15 disasters that each exceeded $1 billion in damages. In 2015, extreme weather killed 522 people in the U.S. and injured more than 2,100.
As part of Tuesday's order on energy independence, Trump will repeal two of Obama's orders aimed at focusing the government on addressing those risks. Among them is one directing federal agencies to plan for climate change and to coordinate with other offices to reduce its impact.
That proposal is "the cornerstone for adaptation planning throughout the government," according to Christy Goldfuss, managing director for the White House's Council on Environmental Quality under Obama and now a vice president at the Center for American Progress.
Its effects ranged from the mundane to the radical. For example, the order directed the General Services Administration, which manages federal buildings, to make sure the government wasn't signing long-term leases in areas likely to get inundated with floods, Goldfuss said. It also allowed different federal agencies to coordinate more far-reaching programs, like the relocation of communities most threatened by climate change.
During his campaign, Trump criticized regulations such as the Clean Power Plan that would force a reduction in greenhouse gases, but he wasn't explicit about how he would deal with adaptation and resiliency. Given the president's focus on building infrastructure and his desire to cut federal spending, many analysts said it would make sense for him to maintain or even expand programs to reduce the cost of disasters.
In addition, unlike efforts to cut emissions, climate adaptation doesn't require talking about whether human activity is to blame for the problem. That fit the stance taken by Trump's cabinet nominees, who during their confirmation hearings said climate change was happening, even as they said it wasn't clear whether or how much humans were responsible.
"I'm surprised they went to so far to look at the executive order on climate adaptation, which really is about helping states and communities adapt to a changing climate," said Gina McCarthy, who served as administrator of the Environmental Protection Agency under Obama. "You need to plan for that. People need to be protected. They expect the federal government to step up."
A senior White House official briefing reporters on Trump's order questioned the premise that sea-level rise and heavier storms might hurt the economy. "I would want to see the research," said the official, who under White House rules can't be identified.
Trump's executive order will also revoke a memorandum Obama signed last September directing the Department of Defense to account for climate change in its national security planning and policies.
It told the military to account for climate risks when deciding where to build new facilities and also in how it prepares for future threats, according to Sharon Burke, who was assistant secretary of Defense for operational energy under Obama.
Repealing the memorandum won't necessarily stop the Pentagon from doing that planning, Burke said, noting that Secretary of Defense James Mattis has made clear that he thinks climate change is real and affects the military's mission. But it means that work might not continue "in a concerted or consistent way," she added.
David Titley, a retired rear admiral, said the national security risk posed by climate change was beyond doubt.
"The Department of Defense will be operating in an environment fundamentally changed by climate," Titley, now a member of the advisory board at the Center for Climate and Security in Washington, said in an email. "Our bases and training ranges will be at increasing risk, and conflicts that may have remained as regional brush fires may burst into international crises."