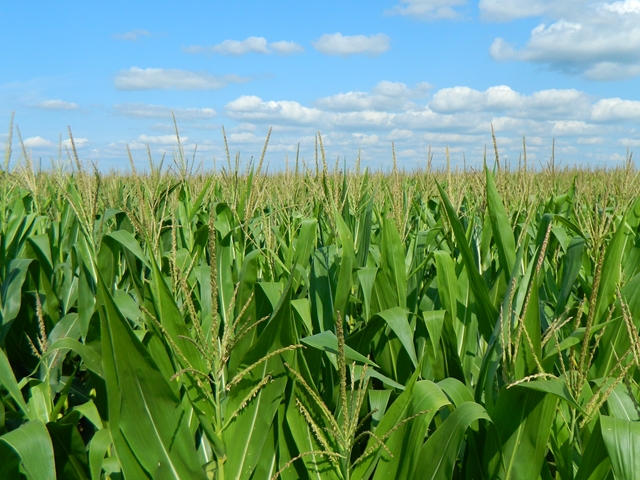 It's been a bad few weeks for corn. On Feb. 26, Senator Pat Toomey, a Republican from Pennsylvania known for fiscal conservatism, and California Democratic Senator Dianne Feinstein introduced legislation to eliminate federal requirements that oil refiners buy corn-based ethanol and blend it into gasoline. "This is the government using corporate welfare to shower money on a favored industry," Toomey said in a statement. In the House, Virginia Republican Representative Bob Goodlatte introduced legislation in February to cap the amount of ethanol allowed in gasoline. That bill has 43 co-sponsors, including Republicans from Texas and other oil states.
Support for ethanol, a political darling of the past decade, has withered as domestic production of oil and gas has boomed. Critics cite not only government subsidies for the industry but also studies showing that converting corn into ethanol is environmentally harmful. "The worm has turned," says C. Ford Runge, an agricultural economist at the University of Minnesota at St. Paul. "There's a certain amount of embarrassment among politicians that they went down this road so far."
To Bruce Rastetter, an Iowa pork and ethanol mogul, the solution is obvious: Focus on the White House. Rastetter founded Heartland Pork, one of the country's biggest pork processors, in 1994, before moving into ethanol in 2003. He was a donor to Mitt Romney's 2012 super PAC, Restore Our Future; now the newest crop of presidential hopefuls is courting him. That's helped Rastetter sign up about a dozen prospective 2016 candidates to an agriculture summit planned for March 7 at the Iowa State Fairgrounds in Des Moines. Expected attendees include former Florida Governor Jeb Bush, Wisconsin Governor Scott Walker, New Jersey Governor Chris Christie, and former Texas Governor Rick Perry. Texas Senator Ted Cruz, who has sponsored legislation rolling back ethanol mandates in the past, also RSVP'd.
Rastetter says he hopes the public event will serve as a counterpoint to "the malaise that's been going on in Congress for a while now." Participants will be allowed to give prepared speeches, but they'll also spend 20 minutes apiece being grilled by Rastetter onstage. "They know me, and they know they will get direct questions and that there's an expectation that there will be direct answers given," Rastetter says. "There's an expectation that these potential candidates will take positions on a variety of agricultural issues, including ethanol." The list of topics includes food safety, immigration, conservation, and trade agreements.
The summit dovetails with efforts by Iowa Governor Terry Branstad, a Republican who is close to Rastetter, to start a grass-roots effort to make ethanol a central issue in the Iowa caucuses next January, traditionally the first vote of the presidential primary season. Earlier this year, Branstad announced the formation of a new group, America's Renewable Future, which intends to mobilize a pro-ethanol army of 25,000 people from each party to participate in the caucuses. The group is backed by Growth Energy, the most active ethanol lobby, and headed by Branstad's son Eric, who was Iowa field director for the 2004 Bush-Cheney campaign. He says he plans to open an office in each of Iowa's 99 counties. "We can get our message into the coffee shops where the candidates are," Eric says. "Then we can use Iowa's unique status to teach the rest of the country how important ethanol is."
The battle outside of Iowa may be uphill, says Dee Davis, president of the Center for Rural Strategies in Whitesburg, Ky. Iowa farmers "need to increase the drumbeat for their policies at a time when fewer people care about them," he says. Urban voters, who still feel they're struggling despite the improving economy, have less appetite for supporting subsidies to farmers. Democrats, including Feinstein, have repeatedly argued that ethanol, which absorbs about 40 percent of U.S. corn production, raises food prices for Americans.
In 2011, Congress let expire a tax credit worth $6 billion annually to ethanol producers, along with a tariff on foreign ethanol imports. The Obama administration has since moved to lower ethanol quotas for oil refiners, who must use plant- derived fuels under the 2007 Renewable Fuel Standard. In November the Environmental Protection Agency, which never set quotas for 2014, said it would delay issuing new guidance on how much ethanol oil refiners must use until sometime this spring.
The effect has been devastating in Iowa farm country, which is "in semi-crisis," says Steffen Schmidt, a political science professor at Iowa State University in Ames. Without rising ethanol demand, bumper harvests are creating a corn glut that's sent prices from more than $8 a bushel in 2012 to less than $4 now. Less money for farmers means less spending: Tractor manufacturer Deere laid off more than 800 Iowa workers in January, in its second round of cutbacks since August; and seed maker Monsanto and chemical giant Syngenta say they expect sales to slow this year. "Ethanol is a serious issue in farm states," Schmidt says.
Eric Branstad insists ethanol is the victim of "lies told by Big Oil." It remains crucial to prosperity in the rural Midwest, which weathered the financial crisis better than the rest of the country in part because ethanol buoyed farmers. Branstad says his job is to remind Iowa caucusgoers that it's their responsibility to reinforce the message donors such as Rastetter send candidates by actually showing up at the polls. Fewer than 150,000 people took part in the 2012 caucuses, a drop-off from 2008. "We are talking about potential presidents here," Branstad says. "They will not be able to ignore rural America."