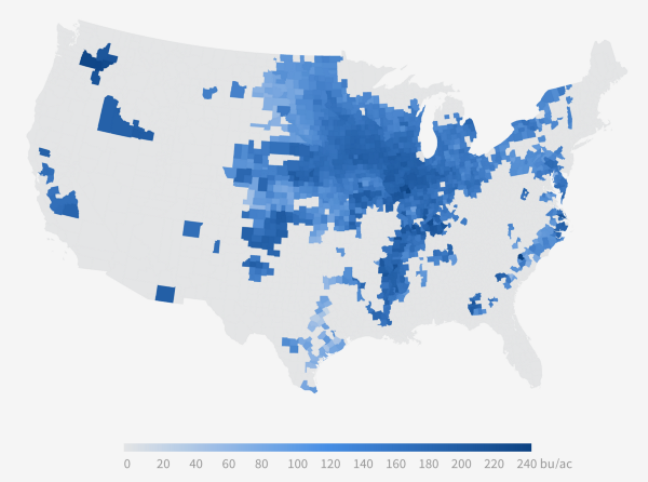 For decades, USDA has released a series of in-season reports with information such as crop conditions and yield estimates. The agency relies on several sources, including farmer surveys, to arrive at these numbers.
"USDA strives to provide the agricultural community with estimates that are accurate, objective, reliable, and timely," according to the agency.
This accuracy is sometimes challenged, but according to Descartes Labs CEO Mark Johnson, USDA's efforts shouldn't be discounted too much.
"USDA does an incredible job of forecasting the U.S. corn crop – better than any other country in the world," he says.
Even so, Johnson says there's still room for improvement, and that was in part the inspiration for Descartes Labs making its own proprietary yield estimates. It does so by scouring through a lot of data every day – 5 terabytes worth – collected and crunched into what Johnson calls "our own hyper-scalable, machine-learning platform."
"[Last year], we used that dataset to build an extremely accurate U.S. corn production forecast – so accurate that, in an 11-year back test, our predictions had lower error than the USDA's forecasts at every point in the growing season."
More data means more accuracy, Johnson argues, and it allows for Descartes Labs to pursue continual improvements to its algorithms.
So what is this ag tech startup predicting for 2016 corn yields? The company is estimating U.S. average corn yields will be 169.0 bu. per acre.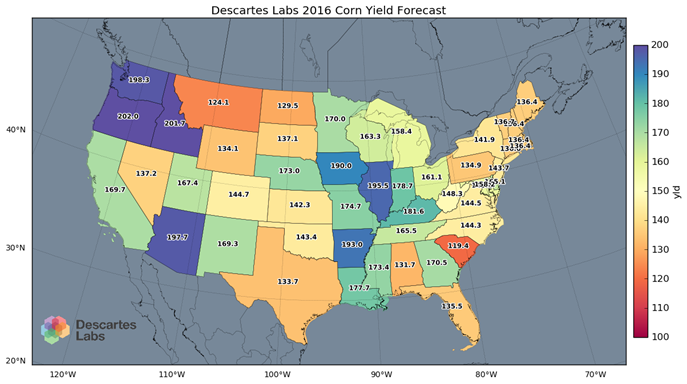 That's subject to change as additional weather data is pulled through the algorithms, Johnson says. Once per week moving forward, Descartes Labs will update its estimate on its website. Users are able to look at national, state-level and county-level predictions.
Additionally, farmers can get a once-weekly push notification of updated estimates sent to their mobile devices if they download the free Descartes Labs app, which is free to download on Apple and Android devices.
Johnson says the company has plans to add more crops and geographies, as well as accuracy improvements by including additional datasets.