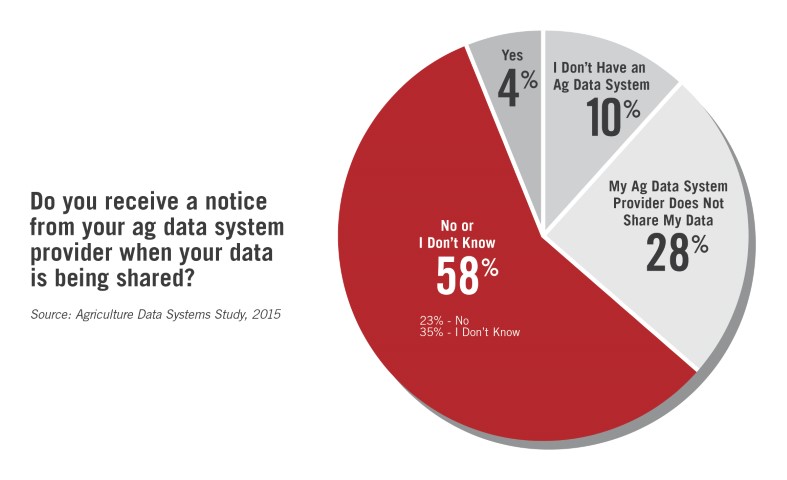 There's no shame in saying "I don't know." Often, that three-word phrase is key to unlocking new knowledge.
Such is the hope of Case IH, after a new survey the company conducted about data security and usage revealed the "I don't know" crowd is still prevalent when it comes to understanding the ins and outs of so-called "big data" on their farming operations. A total of 331 producers with 1,000 acres or more farmland in production participated in the Jan. 2015 survey, conducted by BR Research and sponsored by Case IH. The findings were revealed at the 2015 Commodity Classic.
"We were interested in the awareness – or unawareness – of farmers and data ownership," says Trevor Meacham, director of precision solutions for Case IH. "There were a lot of 'I don't knows' at the end of the day."
For example, farmers were asked: "Does your ag data system provider agreement limit their ability to sell or share your data?" While 45% said yes and 20% said know, more than a third (35%) said they didn't know.
Another question – "Can you share your data between brands?" was met with a similarly divided response. While 39% answered yes and 25% answered no, another 36% responded they didn't know.
Meacham says both farmers as well as the precision ag industry can both make moves to eliminate confusion. For farmers, it starts with reading their service agreements.
"Know what you're signing up for, know what you're signing over, and know what data stays with you," he says.
But it's also on precision agriculture providers to clarify and simplify usage agreements as much as possible, Meacham adds. He points to the Open Ag Data Alliance and other groups already working on these and other standards. Another source of confusion is simply not having standardized definitions surrounding farm data, he says. For example, Case IH defines "agronomic data" as separate from "machine data," but not all OEMs make this distinction.
Meacham says Case IH is focused on increased transparency surrounding data collection and usage issues.
"We readily encourage producers to review and ask questions about the user agreement before they sign up with any provider," he says. "Producers need to understand all aspects, limitations and provisions for data usage and sharing."