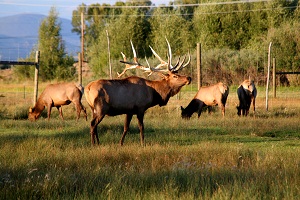 On land nestled against the Skagit River and surrounded by forested hills, a team of state and tribal staff took on the task of installing a 2-mile long, 6 ½-foot tall fence this summer.
Once completed, the fence will enclose Jim and Frances Carstens' 175-acre cattle farm in Birdsview, Wash., west of Concrete.
The fence isn't for looks, privacy or security. The Carstens hope it will be the final attempt at keeping massive pests from devouring their cattle feed.
The fence flows with 8 kilovolts of electricity, enough to startle an elk with a shock like a bee sting, Tulalip Tribe Wildlife Manager Mike Sevigny said.
The state Department of Fish and Wildlife supplied the materials, the Tulalip Tribe purchased a hydraulic post driver, and staff from Fish and Wildlife and the Tulalip, Stillaguamish and Sauk-Suiattle tribes provided labor to complete the project.
The group has been working on it three days a week for six weeks and hopes to complete it by the end of September.
The Carstens have worked side by side with the crew, Jim Carstens clearing the pathway for the fence and Frances Carstens pulling weeds in finished sections.
"They've really stepped up to the plate in helping us out," Jim Carstens said of the volunteers. "I'm very thankful. This fence is allowing us to stay in business."
A growing North Cascades elk herd — also known as the Nooksack herd — has caused property damage across Skagit and Whatcom counties, and in some cases threatened landowners' livelihoods. Elk are particularly drawn to farmland and its easy feeding.
"If you had two pizza places and one was a 2-mile walk and one you could park your car in front of, chances are you'll go to the more convenient one," Sevigny said.
Wildlife co-managers for the species, the state Department of Fish and Wildlife and some Point Elliott Treaty tribes, are working with landowners who have experienced damage like the Carstens to try methods to remove, deter or shut out wandering elk.
But for the Carstens, other lethal and nonlethal measures didn't work. The couple allowed hunters and master hunters on their property, Fish and Wildlife gave them hunting tags as damage compensation, and the state tried hazing tactics to scare the animals away.
"The problem is that's a constant job, and it takes you away from other things when you have to be out chasing elk," Jim Carstens said. "A fence is a more permanent solution."
The Carstens got a quote for a fencing system, materials and labor, but couldn't afford the $40,000 price tag. They are grateful to have the fence going up with the help of the state and tribes.
"We didn't know if we could operate our breeding herds with the elk coming in. . It was a nightmare to have them coming in and tearing the fences down," Frances Carstens said.
The Carstens have lived at their Birdsview home and raised cattle there for 15 years. With elk visiting their property almost nightly in recent years and often breaking their cattle fences, they worried the wrong bulls and cows would mingle, which would ruin their breeding program.
But they aren't wholly opposed to elk.
"I like the elk as well as anybody else to look at, but it's a damage thing — and when you have as many as 80 elk, that's a matter of whether you can stay in business," Jim Carstens said.
The Carstens' new fencing system includes a built-in escape route for elk that make it inside and leaves a corridor along the perimeter so the animals can cross the area.
"We're not blocking them entirely. That's a compromise we're willing to make," Jim Carstens said.
The state and tribes say the goal of working with property owners like the Carstens is to manage the land so the elk can thrive on their traditional ranges without causing damage.
"This elk herd is very important for a lot of local tribes. It's the closest opportunity to hunt or harvest elk. . It's a culturally important species," said Jennifer Sevigny, Stillaguamish Tribe wildlife biologist.
The Carstens' in-progress fence is the latest and largest project the state and tribes have completed in the region, Mike Sevigny said. But it is not the first.
Temporary and permanent fences have gone up with the help of state and tribal staff at several farms, ranches and orchards in Whatcom and Skagit counties.
With projects at the Carstens and three other east Skagit farms, Fish and Wildlife has spent its $125,000 budget for fencing for the year, agency Natural Resources Technician Rob Cogdal said. Other landowners are interested, but the money isn't there.
Jennifer Sevigny said the fences that have gone up are each a little different, which will allow the co-managers to compare price and efficiency, eventually enabling them to help more landowners.