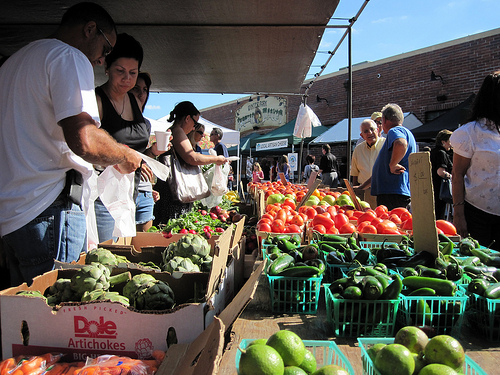 By KATIE DAHLSTROM, The (Sterling) Daily Gazette
LEE, Ill. — Bryan Flower seriously questioned his decision to run a small farm when he had to wrangle a testosterone-filled bull in the pouring rain.
A lightning strike had rendered the electric fence surrounding the bull useless, allowing the 700-pound animal to strut toward the cows.
It took a tractor chase to get the bull back into its corral.
Despite the challenges Flower has encountered since he and his wife, Sarah, started farming 3 years ago, he hasn't questioned his decision seriously enough to stop. In fact, he only hopes to grow his 12-acre farm in Lee.
"It's a very rewarding process," Flower said. "It's a fun process, and it's one that I really wanted my son to be able to experience."
Flower runs one of hundreds of small farms that the U.S. Department of Agriculture reports are in DeKalb County. The small-scale farmers represent an emerging and determined group of people of people returning to the land in hopes of connecting local people with locally grown food.
A small farm isn't one below a certain acreage by the U.S. Department of Agriculture standards. Rather, a farm is deemed small if it has annual sales of less than $350,000, said Andrew Larson, a local food system and small farms educator with the University of Illinois Extension.
According to the USDA's Census of Agriculture released in 2014, 393 of the 880 farms in DeKalb County have annual sales less than $100,000.
Larson said small-scale farmers generally fall into three categories: idealists straight from college making a career of farming; the U-turn farmer who already had another career; and the retiree who plans to farm after another career.
"There's definitely a heavy dose of nostalgia," Larson said. "There's definitely some idealism and thoughts about sustainability. There's a dynamic between a desire to work the land and working for yourself."

'Back to the Roots'
For Flower, 46, the decision came when he was working in the culinary program at Robert Morris University in Chicago. He and his wife purchased property in Lee complete with a house and a 1930s barn, just inside in the DeKalb County border.
They call it the Red House Farm, spending roughly $30,000 to add about 60 hens, five goats, around 10 hogs in the summer, honey bees and a handful of Dexter cattle, a small breed of cow. That's not to mention the tomatoes, peppers, beets, onion, potatoes, hay and other produce they grow.
The farm requires dozens of hours of work weekly, but it isn't either of their primary jobs. Flower is the Food Systems Lab coordinator at NIU while Sarah Flower is a teacher in Plainfield.
They also have a 3-year-old son named Liam. The ideal situation would be for one of them to focus on the farm full-time so they can cultivate it into an educational center.
"I honestly believe that if there were more of us, if there were more people that did this," Flower said, "that we would help people understand and get back to the roots of growing healthy food, being a little bit more self-sustaining and saving money they can put back into a healthy lifestyle."

Thinking Inside the Box
Across the county in Sycamore, 30-year-old Kate Whitacre is in the final days before she starts preparing seeds to grow on the half-acre plot she rents. Unlike the Flowers, whose customers are mostly friends and family, Whitacre runs a community-supported agriculture farm where people pay her in the beginning of the season to receive a box of vegetables weekly during the summer.
"I feel it's most fulfilling to grow food for a community that I know," Whitacre said. "I think it's wonderful to know the people I'm feeding."
Whitacre has been farming since 2008, arriving in Sycamore with her husband, Brett, in 2013 to start Beets and Beats Farm. On top of the weekly shares, Whitacre sells produce at the Sycamore Farmers Market and to a couple restaurants in Chicago. Whitacre works the farm and raises her daughter while her husband works full-time as an artist and musician.
Her goal is to grow her land by 20-fold in the next 20 years. She also hopes to see more small farms emerge, though she thinks some challenges such as the inability to get farm loans or subsidies for growing things other than commodity crops such as corn and soybeans will stand in the way for some.
While the small-scale farming market will need to mature to thrive, Larson thinks there's a good chance it will. He sees the surge in local foods and small-scale farming as more than a fad. To him, it's a lifestyle that will not only keep the county's agricultural tradition alive, but make it more vibrant.
"It means there is a chance to reconnect with the way things taste when they're vine ripe and fresh," Larson said. "It means the entrepreneurial gene is alive and well. It's a way to keep our rural landscape populated with people doing productive things."